当前位置:

发现

&nbsp > &nbsp

双语美文

&nbsp >&nbsp

正文
哈利·波特与死亡圣器 第24章(下)
2017-01-12 09:52:40来源:爱词霸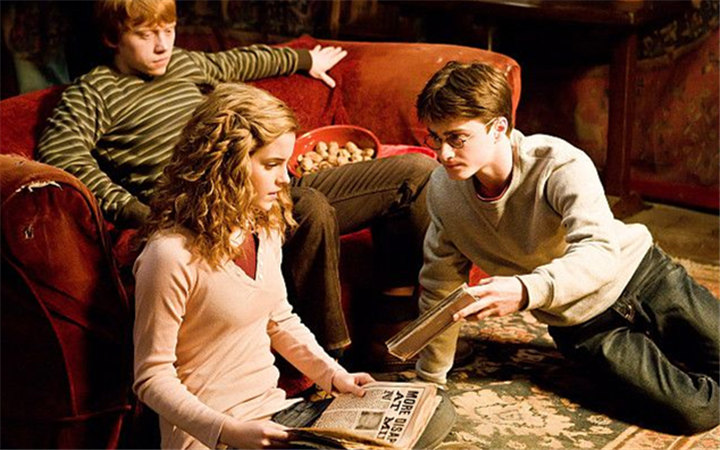 "Why shouldn't I?" said Hermione. "Mudblood, and proud of it! I've got no higher position under this new order than you have, Griphook! It was me they chose to torture, back at the Malfoys'!"
As she spoke, she pulled aside the neck of the dressing gown to reveal the thin cut Bellatrix had made, scarlet against her throat.
"Did you know that it was Harry who set Dobby free?" she asked. "Did you know that we've wanted elves to be freed for years?" (Ron fidgeted uncomfortably on the arm of Hermione's chair.) "You can't want You-Know-Who defeated more than we do, Griphook!"
The goblin gazed at Hermione with the same curiosity he had shown Harry.
"为什么不能?"赫敏说,"我是泥巴种,并为此自豪!在这个新秩序下,我的地位不比你高,拉环!在马尔福家他们选择了我来折磨!"
她一边说一边拉开了晨衣领子,露出咽喉处被贝拉特里克斯刺出的细细的伤口,颜色鲜红。
"你知道是哈利释放了多比吗?"她问道,"你知道我们多年来一直希望解放小精灵吗?"(罗恩在赫敏的椅子扶手上有点坐立不安了。)"你不会比我们更希望打败神秘人,拉环!"
那个妖精注视着赫敏,同打量哈利时一样好奇。
"What do you seek within the Lestranges' vault?" he asked abruptly. "The sword that lies inside it is a fake. This is the real one." He looked from one to the other of them. "I think that you already know this. You asked me to lie for you back there."
"But the fake sword isn't the only thing in that vault, is it?" asked Harry. "Perhaps you've seen the other things in there?"
His heart was pounding harder than ever. He redoubled his efforts to ignore the pulsing of his scar.
The goblin twisted his beard around his finger again.
"你们要在莱斯特兰奇家的金库里找什么?"他突然问道,"那里面的宝剑是假的,这把才是真的。"他挨个儿地看着他们,"我以为你们已经知道了。在那儿你们让我替你们撒了谎。"
"但是那个金库里面不仅有假宝剑,是不是?"哈利问道,"也许你见到里面别的东西?"
他的心从没有跳得这样剧烈过。他加倍努力来抵御伤疤的阵阵剧痛。
妖精再次用手指绞着胡须。
"It is against our code to speak of the secrets of Gringotts. We are the guardians of fabulous treasures. We have a duty to the objects placed in our care, which were, so often, wrought by our fingers."
The goblin stroked the sword, and his black eyes roved from Harry to Hermione to Ron and then back again.
"So young," he said finally, "to be fighting so many."
"Will you help us?" said Harry. "We haven't got a hope of breaking in without a goblin's help. You're our one chance."
"说出古灵阁里的秘密是违反规定的。我们是巨大财富的守护者,要对看护的东西负责,那些东西往往是我们亲手制造的。"
妖精抚摸着宝剑,黑眼睛滴溜溜地把哈利、赫敏和罗恩看了一遍,又回到哈利身上。
"太年轻了,"他最后说,"可要对抗的是那么多。"
"你会帮助我们吗?"哈利说道,"如果没有妖精帮忙,我们不可能闯进去的。你是我们惟一的希望。"
"I shall . . . think about it," said Griphook maddeningly.
"But —" Ron started angrily; Hermione nudged him in the ribs.
"Thank you," said Harry.
The goblin bowed his great domed head in acknowledgement, then flexed his short legs.
"I think," he said, settling himself ostentatiously upon Bill and Fleur's bed, "that the Skele-Gro has finished its work. I may be able to sleep at last. Forgive me. . . ."
"我会……想一想。"拉环令人恼火地说道。
"但是——"罗恩生气地说,赫敏轻轻捅了他一下。
"谢谢你。"哈利说。
妖精低了一下巨大的圆脑袋接受了谢意,然后弯起短短的双腿。
"我想,"他大模大样地在比尔和芙蓉的床上躺了下来,"催长素已经发挥作用了,我终于能睡个觉了。请原谅……"
"Yeah, of course," said Harry, but before leaving the room he leaned forward and took the sword of Gryffindor from beside the goblin. Griphook did not protest, but Harry thought he saw resentment in the goblin's eyes as he closed the door upon him.
"Little git," whispered Ron. "He's enjoying keeping us hanging."
"Harry," whispered Hermione, pulling them both away from the door, into the middle of the still-dark landing, "are you saying what I think you're saying? Are you saying there's a Horcrux in the Lestranges' vault?"
"好的,当然。"哈利说,离开屋子之前,他欠身从妖精身旁拿走了格兰芬多宝剑。拉环没有抗议,但是哈利在关门时好像看到了妖精眼里的愤恨。
"小坏蛋,"罗恩小声说,"吊我们胃口,他觉得很开心。"
"哈利,"赫敏低声说道,一边把他俩从门口拉走,回到依然黑暗的平台中央,"你是那个意思吗?你是说莱斯特兰奇家的金库中有魂器?"
"Yes," said Harry. "Bellatrix was terrified when she thought we'd been in there, she was beside herself. Why? What did she think we'd seen, what else did she think we might have taken? Something she was petrified You-Know-Who would find out about."
"But I thought we were looking for places You-Know-Who's been, places he's done something important?" said Ron, looking baffled. "Was he ever inside the Lestranges' vault?"
"I don't know whether he was ever inside Gringotts," said Harry. "He never had gold there when he was younger, because nobody left him anything. He would have seen the bank from the outside, though, the first time he ever went to Diagon Alley."
"是的,"哈利说,"贝拉特里克斯一想到我们去过那儿就惊恐万分,简直歇斯底里了。为什么?她以为我们看到了什么?她以为我们还可能拿走了什么?她特别害怕神秘人发现那东西不在了。"
"可是,我原以为要找神秘人去过或做过什么重要事情的地方,"罗恩说,看起来有点困惑,"他进过莱斯特兰奇家的金库吗?"
"我不知道他是不是进过古灵阁,"哈利说,"他年轻时从没有在那儿存过金子,因为没人给他留下任何东西。但他第一次去对角巷时,可能从外面看见过那家银行。"
Harry's scar throbbed, but he ignored it; he wanted Ron and Hermione to understand about Gringotts before they spoke to Ollivander.
"I think he would have envied anyone who had a key to a Gringotts vault. I think he'd have seen it as a real symbol of belonging to the Wizarding world. And don't forget, he trusted Bellatrix and her husband. They were his most devoted servants before he fell, and they went looking for him after he vanished. He said it the night he came back, I heard him."
Harry rubbed his scar.
"I don't think he'd have told Bellatrix it was a Horcrux, though. He never told Lucius Malfoy the truth about the diary. He probably told her it was a treasured possession and asked her to place it in her vault. The safest place in the world for anything you want to hide, Hagrid told me . . . except for Hogwarts."
哈利的伤疤突突地痛着,但他没去理会。他希望在和奥利凡德交谈之前,能让罗恩和赫敏明白古灵阁的事。
"我想他可能会羡慕有古灵阁金库钥匙的人,他可能认为这是魔法界成员的真正标志。别忘了,他很信任贝拉特里克斯和她丈夫。他们是他倒台前最忠诚的仆人,在他消失后还出去找他。这是他复出的那天晚上说的,我亲耳听见的。"
哈利揉了揉伤疤。
"不过,我认为他不可能告诉贝拉特里克斯那是魂器。他没有对卢修斯·马尔福说过那本日记的真相。他可能告诉贝拉特里克斯那是一件珍贵的财产,要寄存在她的金库里。海格告诉过我,如果你想藏什么什么东西,那是世界上最安全的地方……除了霍格沃茨之外。"
When Harry had finished speaking, Ron shook his head.
"You really understand him."
"Bits of him," said Harry. "Bits . . . I just wish I'd understood Dumbledore as much. But we'll see. Come on — Ollivander now."
Ron and Hermione looked bewildered but impressed as they followed him across the little landing and knocked upon the door opposite Bill and Fleur's. A weak "Come in!" answered them.
哈利说完后,罗恩摇了摇头。
"你真是了解他。"
"了解他的一点点,"哈利说,"一点点……我只希望我也能那样了解邓布利多。等着瞧吧。快——轮到奥利凡德了。"
罗恩和赫敏看起来又困惑又钦佩,跟着他穿过小平台,敲了敲比尔和芙蓉对面房间的门。一声微弱的"请进!"回答了他们。
The wandmaker was lying on the twin bed farthest from the window. He had been held in the cellar for more than a year, and tortured, Harry knew, on at least one occasion. He was emaciated, the bones of his face sticking out sharply against the yellowish skin. His great silver eyes seemed vast in their sunken sockets. The hands that lay upon the blanket could have belonged to a skeleton. Harry sat down on the empty bed, beside Ron and Hermione. The rising sun was not visible here. The room faced the cliff-top garden and the freshly dug grave.
"Mr. Ollivander, I'm sorry to disturb you," Harry said.
"My dear boy." Ollivander's voice was feeble. "You rescued us. I thought we would die in that place. I can never thank you . . . never thank you . . . enough."
屋里是一对单人床,魔杖制作人躺在远离窗户的那一张上。他在地牢里关了一年多,并且哈利知道他至少惨遭过一次折磨。他很憔悴,脸上的骨头全都突了出来,皮肤黄黄的。银色的大眼睛深陷在眼窝里,显得更加巨大。放在毛毯上的双手像是骷髅的一般。哈利坐在那张空床上,挨着罗恩和赫敏。在这里看不到初升的太阳,这房间朝着悬崖顶上的花园和刚挖的坟墓。
"奥利凡德先生,对不起,打扰您了。"哈利说。
"我亲爱的孩子,"奥利凡德的声音很虚弱,"你解救了我们。我原以为我们会死在那里。我怎么谢你……怎么谢你……也不够埃"
"We were glad to do it."
Harry's scar throbbed. He knew, he was certain, that there was hardly any time left in which to beat Voldemort to his goal, or else to attempt to thwart him. He felt a flutter of panic . . . yet he had made his decision when he chose to speak to Griphook first. Feigning a calm he did not feel, he groped in the pouch around his neck and took out the two halves of his broken wand.
"Mr. Ollivander, I need some help."
"Anything. Anything," said the wandmaker weakly.
"Can you mend this? Is it possible?"
"我们很高兴能帮您。"
哈利的伤疤突突地痛。他知道,他可以肯定,几乎来不及赶在伏地魔前面,来不及去阻挠他了。他感到一阵惊慌……然而是他决定先跟拉环谈的。他假装很镇定,从脖子上挂的皮袋里摸出那根断成两截的魔杖。
"奥利凡德先生,我需要一些帮助。"
"在所不辞,在所不辞。"魔杖制作人无力地说。
"您能修好这个吗?有可能吗?"
Ollivander held out a trembling hand, and Harry placed the two barely connected halves into his palm.
"Holly and phoenix feather," said Ollivander in a tremulous voice. "Eleven inches. Nice and supple."
"Yes," said Harry. "Can you — ?"
"No," whispered Ollivander. "I am sorry, very sorry, but a wand that has suffered this degree of damage cannot be repaired by any means that I know of."
Harry had been braced to hear it, but it was a blow nevertheless. He took the wand halves back and replaced them in the pouch around his neck. Ollivander stared at the place where the shattered wand had vanished, and did not look away until Harry had taken from his pocket the two wands he had brought from the Malfoys'.
奥利凡德伸出一只颤抖的手,哈利把勉强相连的两截魔杖放到他的掌心里。
"冬青木和凤凰羽毛……"奥利凡德颤巍巍地说道,"十一英寸,漂亮,柔韧。"
"是的,"哈利说,"您能——?"
"不能,"奥利凡德轻声说,"我很抱歉,非常抱歉。魔杖遭受了这么严重的损伤,据我所知是没有任何办法能修好的。"
哈利已有思想准备,但这话对他还是一个巨大的打击。他拿回断成两截的魔杖,放回到脖子上的皮袋里。奥利凡德盯着断魔杖消失的地方,一直没有移开视线,直到哈利从口袋里取出从马尔福家夺来的两根魔杖。
"Can you identify these?" Harry asked.
The wandmaker took the first of the wands and held it close to his faded eyes, rolling it between his knobble-knuckled fingers, flexing it slightly.
"Walnut and dragon heartstring," he said. "Twelve-and-three-quarter inches. Unyielding. This wand belonged to Bellatrix Lestrange."
"And this one?"
"您能鉴定一下吗?"哈利问。
魔杖制作人拿起第一根魔杖,举到昏花的老眼前,在他指节突起的手指间旋转着,轻轻弯折着。
"胡桃木和龙的神经,"他说,"十二又四分之三英寸,不易弯曲,这根魔杖是贝拉特里克斯·莱斯特兰奇的。"
"这根呢?"
Ollivander performed the same examination.
"Hawthorn and unicorn hair. Ten inches precisely. Reasonably springy. This was the wand of Draco Malfoy."
"Was?" repeated Harry. "Isn't it still his?"
"Perhaps not. If you took it —"
"— I did —"
"— then it may be yours. Of course, the manner of taking matters. Much also depends upon the wand itself. In general, however, where a wand has been won, its allegiance will change."
There was silence in the room, except for the distant rushing of the sea.
奥利凡德做了同样的检查。
"山楂木和独角兽毛。刚好十英寸,弹性尚可,这曾是德拉科·马尔福的魔杖。"
"曾是?"哈利重复道,"难道现在不是了?"
"可能不是了,如果被你夺到——"
"——是啊——"
"——那么它就可能是你的。当然,夺的方式很重要,另外也取决于魔杖本身。通常说来,一根魔杖被赢取后,它效忠的对象就会改变。"
房间里一片沉寂,只听见遥远的海涛声。
"You talk about wands like they've got feelings," said Harry, "like they can think for themselves."
"The wand chooses the wizard," said Ollivander. "That much has always been clear to those of us who have studied wandlore."
"A person can still use a wand that hasn't chosen them, though?" asked Harry.
"Oh yes, if you are any wizard at all you will be able to channel your magic through almost any instrument. The best results, however, must always come where there is the strongest affinity between wizard and wand. These connections are complex. An initial attraction, and then a mutual quest for experience, the wand learning from the wizard, the wizard from the wand."
The sea gushed forward and backward; it was a mournful sound.
"您把魔杖说得好像有感情一样,"哈利说,"好像它们可以自己思考。"
"魔杖选择巫师,"奥利凡德说,"对于我们研究魔杖学问的人来说,这一直是显而易见的。"
"不过,一个人还是可以使用没有选择他的魔杖吧?"哈利问道。
"哦,是的,只要你是个巫师,就应该差不多能用任何工具表现你的魔法。但最佳效果一定是来自巫师和魔杖间最紧密的结合。这些联系是复杂的,最初是相互吸引,继而相互探求经验,魔杖向巫师学习,巫师也向魔杖学习。"
潮起潮落,像悲哀的挽歌。
"I took this wand from Draco Malfoy by force," said Harry. "Can I use it safely?"
"I think so. Subtle laws govern wand ownership, but the conquered wand will usually bend its will to its new master."
"So I should use this one?" said Ron, pulling Wormtail's wand out of his pocket and handing it to Ollivander.
"Chestnut and dragon heartstring. Nine-and-a-quarter inches. Brittle. I was forced to make this shortly after my kidnapping, for Peter Pettigrew. Yes, if you won it, it is more likely to do your bidding, and do it well, than another wand."
"And this holds true for all wands, does it?" asked Harry.
"我是强行从德拉科·马尔福手中夺到这根魔杖的,"哈利说,"我可以安全地使用它吗?"
"我想可以。魔杖的所有权有精细的规则,但是被征服的魔杖通常会服从于新的主人。"
"那么我也能用这根吗?"罗恩说,一边从口袋里拿出虫尾巴的魔杖,递给了奥利凡德。
"栗木和龙的神经,九又四分之一英寸,质地坚脆,是我被绑架后不久,被迫为小矮星彼得制作的。不错,如果是你赢来的,它会比别的魔杖更愿意执行你的命令,并且执行得很好。"
"所有的魔杖都是这样的,对吗?"哈利问。
"I think so," replied Ollivander, his protuberant eyes upon Harry's face. "You ask deep questions, Mr. Potter. Wandlore is a complex and mysterious branch of magic."
"So, it isn't necessary to kill the previous owner to take true possession of a wand?" asked Harry.
Ollivander swallowed.
"Necessary? No, I should not say that it is necessary to kill."
"There are legends, though," said Harry, and as his heart rate quickened, the pain in his scar became more intense; he was sure that Voldemort had decided to put his idea into action. "Legends about a wand — or wands — that have passed from hand to hand by murder."
Ollivander turned pale. Against the snowy pillow he was light gray, and his eyes were enormous, bloodshot, and bulging with what looked like fear.
"我想是的,"奥利凡德回答,他的凸眼睛盯着哈利的脸,"你问的问题很深奥,波特先生。魔杖学是一门复杂而神秘的魔法学科。"
"那么,要真正拥有一根魔杖,并不一定要杀死它的前任主人,对吗?"哈利问道。
奥利凡德咽了咽口水。
"一定?不,我认为不一定要杀人。"
"但是,有一些传说,"哈利说,心跳加快的同时,伤疤疼得越加厉害。他相信伏地魔已经决定把想法付诸行动。"传说有一根魔杖——或一些魔杖——是通过谋杀而转手的。"
奥利凡德脸色一变。在雪白的枕头上,他面如纸灰,眼睛特别大,充血而凸出,似乎充满恐惧。
"Only one wand, I think," he whispered.
"And You-Know-Who is interested in it, isn't he?" asked Harry.
"I — how?" croaked Ollivander, and he looked appealingly at Ron and Hermione for help. "How do you know this?"
"He wanted you to tell him how to overcome the connection between our wands," said Harry.
Ollivander looked terrified.
"只有一根魔杖,我想。"他低声说。
"神秘人对它很感兴趣,对吗?"哈利问。
"我——你是怎么——?"奥利凡德低沉沙哑地问道,求助地看着罗恩和赫敏,"你是怎么知道这个的?"
"他希望您告诉他,如何克服我们魔杖之间的联系。"哈利说。
奥利凡德似乎吓呆了。
"He tortured me, you must understand that! The Cruciatus Curse, I — I had no choice but to tell him what I knew, what I guessed!"
"I understand," said Harry. "You told him about the twin cores? You said he just had to borrow another wizard's wand?"
Ollivander looked horrified, transfixed, by the amount that Harry knew. He nodded slowly.
"But it didn't work," Harry went on. "Mine still beat the borrowed wand. Do you know why that is?"
Ollivander shook his head as slowly as he had just nodded.
"他拷问我,你必须理解!钻心咒,我——我别无选择,只能对他说出我知道的,我猜测的!"
"我理解,"哈利说,"您对他说了孪生杖芯的事吧?您说他只需向别的巫师借一根魔杖?"
奥利凡德没想到哈利知道得这么多,他又害怕又惊诧,慢慢地点点头。
"但是那没有用,"哈利继续说道,"我的魔杖仍然打败了他借来的那根魔杖。您知道那是为什么吗?"
奥利凡德慢慢地摇摇头,和他刚才点头一样慢。
"I had . . . never heard of such a thing. Your wand performed something unique that night. The connection of the twin cores is incredibly rare, yet why your wand should have snapped the borrowed wand, I do not know. . . ."
"We were talking about the other wand, the wand that changes hands by murder. When You-Know-Who realized my wand had done something strange, he came back and asked about that other wand, didn't he?"
"How do you know this?"
Harry did not answer.
"我……从没听说过这样的事。你的魔杖那天晚上的表现很奇特。孪生杖芯的联系极其罕见,然而为什么你的魔杖竟会折断借来的魔杖,我不知道……"
"我们是在讨论另一根魔杖,那根靠谋杀转手的魔杖。当神秘人意识到我的魔杖表现奇特后,他回来问到了那根魔杖,是不是?"
"你是怎么知道的?"
哈利没有回答。
"Yes, he asked," whispered Ollivander. "He wanted to know everything I could tell him about the wand variously known as the Deathstick, the Wand of Destiny, or the Elder Wand."
Harry glanced sideways at Hermione. She looked flabbergasted.
"The Dark Lord," said Ollivander in hushed and frightened tones, "had always been happy with the wand I made him — yew and phoenix feather, thirteen-and-a-half inches — until he discovered the connection of the twin cores. Now he seeks another, more powerful wand, as the only way to conquer yours."
"是的,他问了,"奥利凡德低声说道,"他想知道我能告诉他的一切,关于那根有着不同名称的魔杖——死亡棒,命运杖或老魔杖。"
哈利瞥了一眼旁边的赫敏,她看起来目瞪口呆。
"黑魔头,"奥利凡德压低声音恐惧地说,"一直对我给他做的魔杖很满意——紫杉木和凤凰羽毛,十三又二分之一英寸——直到他发现了孪生杖芯之间的联系。现在他要寻找另一根更加强大的魔杖,作为征服你的魔杖的惟一办法。"
"But he'll know soon, if he doesn't already, that mine's broken beyond repair," said Harry quietly.
"No!" said Hermione, sounding frightened. "He can't know that, Harry, how could he — ?"
"Priori Incantatem," said Harry. "We left your wand and the blackthorn wand at the Malfoys', Hermione. If they examine them properly, make them re-create the spells they've cast lately, they'll see that yours broke mine, they'll see that you tried and failed to mend it, and they'll realize that I've been using the blackthorn one ever since."
The little color she had regained since their arrival had drained from her face. Ron gave Harry a reproachful look, and said, "Let's not worry about that now —"
But Mr. Ollivander intervened.
"但是,即使他现在还不知道,他也很快会知道我的魔杖已经坏了,修不好了。"哈利轻声说。
"不!"赫敏惊恐地说,"他不可能知道这个,哈利,他怎么可能——"
"闪回咒,"哈利说,"我们把你的魔杖和黑刺李木魔杖丢在马尔福家了,赫敏。如果他们仔细检查,让它们重现最近施过的咒语,就会看到你的魔杖打断了我的,也会看到你试图修复它而没有成功,然后他们就会想到我从那时起就一直使用黑刺李木魔杖了。"
赫敏来到这里后脸上恢复的一点血色又消失殆尽了。罗恩责备地瞥了哈利一眼,说道:"现在别担心那个——"
但是奥利凡德先生插话了。
"The Dark Lord no longer seeks the Elder Wand only for your destruction, Mr. Potter. He is determined to possess it because he believes it will make him truly invulnerable."
"And will it?"
"The owner of the Elder Wand must always fear attack," said Ollivander, "but the idea of the Dark Lord in possession of the Deathstick is, I must admit . . . formidable."
Harry was suddenly reminded of how he had been unsure, when they first met, of how much he liked Ollivander. Even now, having been tortured and imprisoned by Voldemort, the idea of the Dark wizard in possession of this wand seemed to enthrall him as much as it repulsed him.
"You — you really think this wand exists, then, Mr. Ollivander?" asked Hermione.
"黑魔头寻找老魔杖不再仅仅是为了打败你,波特先生。他决心要拥有它,因为他相信老魔杖会让他变得无懈可击。"
"会吗?"
"老魔杖的拥有者总是担心受到攻击,"奥利凡德说,"但是黑魔头拥有死亡棒的这个想法,我必须承认……是令人生畏的。"
哈利突然想起他们第一次见面时,他就不能确定自己是不是喜欢奥利凡德。现在,即使在被伏地魔拷问和关押后,这老头儿对于黑巫师拥有老魔杖的想法,似乎仍是既反感又着迷。
"您——您真的认为这根魔杖是存在的吗?奥利凡德先生?"赫敏问道。
"Oh yes," said Ollivander. "Yes, it is perfectly possible to trace the wand's course through history. There are gaps, of course, and long ones, where it vanishes from view, temporarily lost or hidden; but always it resurfaces. It has certain identifying characteristics that those who are learned in wandlore recognize. There are written accounts, some of them obscure, that I and other wandmakers have made it our business to study. They have the ring of authenticity."
"So you — you don't think it can be a fairy tale or a myth?" Hermione asked hopefully.
"哦,是的,"奥利凡德说道,"是的。在历史上完全有踪迹可寻。当然中间会有中断,很长时间的中断,它会从人们的视野里消失,暂时丢失或者隐藏起来,但总会重新出现。它有某些可识别的特征,研究过魔杖学的人会认得出来。有一些书面的记录,有的很隐晦,我和其他魔杖制作人专门研究过。那些记录有一定的真实性。"
"那么您——您不认为它可能是一个传说,或是虚构的故事?"赫敏带着希望问。
"No," said Ollivander. "Whether it needs to pass by murder, I do not know. Its history is bloody, but that may be simply due to the fact that it is such a desirable object, and arouses such passions in wizards. Immensely powerful, dangerous in the wrong hands, and an object of incredible fascination to all of us who study the power of wands."
"Mr. Ollivander," said Harry, "you told You-Know-Who that Gregorovitch had the Elder Wand, didn't you?"
Ollivander turned, if possible, even paler. He looked ghostly as he gulped.
"But how — how do you — ?"
"Never mind how I know it," said Harry, closing his eyes momentarily as his scar burned and he saw, for mere seconds, a vision of the main street in Hogsmeade, still dark, because it was so much farther north. "You told You-Know-Who that Gregorovitch had the wand?"
"不。"奥利凡德说,"至于它是否需要靠谋杀来转手,我不知道。它的历史是血腥的,但那可能只因为它是一件如此令人觊觎的器物,在巫师间引起强烈的欲望。它无比强大,在不适当的人手中会很危险,而对于我们研究魔杖能力的人来说,它是一件有莫大诱惑力的器物。"
"奥利凡德先生,"哈利说,"您告诉神秘人,老魔杖在格里戈维奇那里,是不是?"
奥利凡德的脸色变得——如果可能的话——更加灰白,看起来像鬼一样,他惊得噎住了。
"别管我是怎么知道的,"哈利说,他的伤疤灼痛起来,他稍稍闭了一下眼睛。仅仅几秒钟,他看到了霍格莫德大马路的景象,仍然是黑夜,因为它在很远的北方。"您告诉神秘人老魔杖在格里戈维奇那里,是吗?"
"It was a rumor," whispered Ollivander. "A rumor, years and years ago, long before you were born! I believe Gregorovitch himself started it. You can see how good it would be for business: that he was studying and duplicating the qualities of the Elder Wand!"
"Yes, I can see that," said Harry. He stood up. "Mr. Ollivander, one last thing, and then we'll let you get some rest. What do you know about the Deathly Hallows?"
"The — the what?" asked the wandmaker, looking utterly bewildered.
"The Deathly Hallows."
"那是一个谣传,"奥利凡德轻声说,"一个谣传,许多年前,早在你出生以前!我相信是格里戈维奇自己说出去的。你可以想见,如果传说他在研究和复制老魔杖的特性,这对他的生意多么有利埃"
"是的,可以想见。"哈利说着站了起来,"奥利凡德先生,最后一件事,然后我们就让您休息了。关于死亡圣器您知道些什么?"
"关于——关于什么?"奥利凡德问道,看起来十分困惑。
"死亡圣器。"
"I'm afraid I don't know what you're talking about. Is this still something to do with wands?"
Harry looked into the sunken face and believed that Ollivander was not acting. He did not know about the Hallows.
"Thank you," said Harry. "Thank you very much. We'll leave you to get some rest now."
Ollivander looked stricken.
"He was torturing me!" he gasped. "The Cruciatus Curse . . . you have no idea. . . ."
"I do," said Harry. "I really do. Please get some rest. Thank you for telling me all of this."
"我恐怕不知道你在说些什么,仍然和魔杖有关吗?"
哈利观察了一下那张凹陷的面孔,相信奥利凡德没有假装,他不知道圣器的事。
"谢谢您,"哈利说,"非常感谢您。我们这就离开,让您好好休息。"
奥利凡德显得十分痛苦。
"他折磨我!"他气喘吁吁地说,"钻心咒……你是不知道……"
"我知道,"哈利说道,"我真的知道。请好好休息。谢谢您告诉我们这一切。"
He led Ron and Hermione down the staircase. Harry caught a glimpse of Bill, Fleur, Luna, and Dean sitting at the table in the kitchen, cups of tea in front of them. They all looked up at Harry as he appeared in the doorway, but he merely nodded to them and continued into the garden, Ron and Hermione behind him. The reddish mound of earth that covered Dobby lay ahead, and Harry walked back to it, as the pain in his head built more and more powerfully. It was a huge effort now to close down the visions that were forcing themselves upon him, but he knew that he would have to resist only a little longer. He would yield very soon, because he needed to know that his theory was right. He must make only one more short effort, so that he could explain to Ron and Hermione.
他领着罗恩和赫敏下了楼,瞥见比尔、芙蓉、卢娜和迪安坐在厨房的桌旁,面前放着茶杯。当哈利走过门口时,他们都抬起头来,但他只是点了点头,继续往花园里走,罗恩和赫敏跟在后面。埋着多比的红色土丘就在前方,哈利朝它走去,额头的疼痛愈发剧烈。现在他需要用巨大的努力来关闭闯入脑海的景象,但他知道只需再忍耐一小会儿,很快他就会放弃,他必须去验证自己的推理是否正确。他必须再坚持片刻,好向罗恩和赫敏解释。
"Gregorovitch had the Elder Wand a long time ago," he said. "I saw You-Know-Who trying to find him. When he tracked him down, he found that Gregorovitch didn't have it anymore: It was stolen from him by Grindelwald. How Grindelwald found out that Gregorovitch had it, I don't know — but if Gregorovitch was stupid enough to spread the rumor, it can't have been that difficult."
Voldemort was at the gates of Hogwarts; Harry could see him standing there, and see too the lamp bobbing in the pre-dawn, coming closer and closer.
"格里戈维奇得到过老魔杖,在很久以前。"他说道,"我看到神秘人在找他,可是找到之后,却发现魔杖已经不在格里戈维奇那里,被格林德沃偷走了。至于格林德沃是怎么知道格里戈维奇有老魔杖的,我就不清楚了——但如果格里戈维奇愚蠢得四处吹嘘,别人应该不会很难知道吧。"
伏地魔在霍格沃茨的大门口,哈利能看见他站在那里,也能看见灯光,在黎明前的空气中浮动,越来越近了。
"And Grindelwald used the Elder Wand to become powerful. And at the height of his power, when Dumbledore knew he was the only one who could stop him, he dueled Grindelwald and beat him, and he took the Elder Wand."
"Dumbledore had the Elder Wand?" said Ron. "But then — where is it now?"
"At Hogwarts," said Harry, fighting to remain with them in the cliff-top garden.
"But then, let's go!" said Ron urgently. "Harry, let's go and get it before he does!"
"格林德沃凭借老魔杖使自己变得强大起来。在他鼎盛的时候,邓布利多知道自己是惟一能够阻止他的人,就去和格林德沃决斗,并且战胜了他,拿走了老魔杖。"
"邓布利多拥有过老魔杖?"罗恩问,"那么——它现在呢?"
"在霍格沃茨。"哈利说,努力控制着思维不离开悬崖顶上的花园,不离开他俩。
"那我们去吧!"罗恩急切地说,"哈利,去拿到它,赶在他之前。"
"It's too late for that," said Harry. He could not help himself, but clutched his head, trying to help it resist. "He knows where it is. He's there now."
"Harry!" Ron said furiously. "How long have you known this — why have we been wasting time? Why did you talk to Griphook first? We could have gone — we could still go —"
"No," said Harry, and he sank to his knees in the grass. "Hermione's right. Dumbledore didn't want me to have it. He didn't want me to take it. He wanted me to get the Horcruxes."
"已经太迟了,"哈利说,他忍不住抱紧了脑袋,试图帮助它来抵御,"他知道老魔杖在哪儿,他已经在那里了。"
"哈利!"罗恩生气地说,"你知道这个多久了——为什么我们一直在浪费时间?为什么你要先同拉环谈?不然我们已经去了——我们还可以去——"
"不,"哈利说,他跪倒在草地上,"赫敏是对的。邓布利多不希望我拥有它。他不希望我拿走它。他希望我去找魂器。"
"The unbeatable wand, Harry!" moaned Ron.
"I'm not supposed to . . . I'm supposed to get the Horcruxes. . . ."
And now everything was cool and dark: The sun was barely visible over the horizon as he glided alongside Snape, up through the grounds toward the lake.
"永不会输的魔杖,哈利!"罗恩抱怨道。
"我不应该……我应该去找魂器……"
此刻周围的一切又冷又暗,太阳还没有在地平线上显露,他在斯内普的旁边飘然而行,穿过操场向着湖边飘去。
"I shall join you in the castle shortly," he said in his high, cold voice. "Leave me now."
Snape bowed and set off back up the path, his black cloak billowing behind him. Harry walked slowly, waiting for Snape's figure to disappear. It would not do for Snape, or indeed anyone else, to see where he was going. But there were no lights in the castle windows, and he could conceal himself . . . and in a second he had cast upon himself a Disillusionment Charm that hid him even from his own eyes.
"稍后我在城堡里和你会合,"他用那高亢、冷酷的声音说道,"现在你去吧。"
斯内普鞠了个躬,沿着小路返回,黑色的斗篷在身后飘扬。哈利慢慢走着,等待斯内普的身影消失。不能让斯内普看到他往哪里走,不能让任何人看到。但是城堡的窗户里没有灯光,而且他可以把自己隐藏起来……他立刻施了一个幻身咒,就连自己都看不见自己了。
And he walked on, around the edge of the lake, taking in the outlines of the beloved castle, his first kingdom, his birthright. . . .
And here it was, beside the lake, reflected in the dark waters. The white marble tomb, an unnecessary blot on the familiar landscape. He felt again that rush of controlled euphoria, that heady sense of purpose in destruction. He raised the old yew wand: How fitting that this would be its last great act.
The tomb split open from head to foot. The shrouded figure was as long and thin as it had been in life. He raised the wand again.
他继续走着,环湖而行,看着他心爱的城堡的轮廓,他的第一个王国,他与生俱来的权利……
到了,就在湖边,倒映在黑色的湖水里,白色的大理石坟墓,熟悉的风景中一个多余的污点。他再次感觉到那种有节制的喜悦冲动,那种实施毁灭的振奋感觉。他举起了那根旧的紫杉木魔杖:这将是它的最后一个壮举,多么合适呀。
The wrappings fell open. The face was translucent, pale, sunken, yet almost perfectly preserved. They had left his spectacles on the crooked nose: He felt amused derision. Dumbledore's hands were folded upon his chest, and there it lay, clutched beneath them, buried with him.
Had the old fool imagined that marble or death would protect the wand? Had he thought that the Dark Lord would be scared to violate his tomb? The spiderlike hand swooped and pulled the wand from Dumbledore's grasp, and as he took it, a shower of sparks flew from its tip, sparkling over the corpse of its last owner, ready to serve a new master at last.
坟墓从头到脚被劈开,包裹在寿衣中的躯体和生前一样瘦长,他再次举起了魔杖。
包裹布散开了,脸是半透明的,苍白凹陷,然而保存得近乎完美。眼镜还架在弯鼻子上,让他感到很可笑。邓布利多双手交握在胸前,它就在那儿,抓在手里,同他一道被埋葬了。
这个老傻瓜以为大理石或死亡会保护这根魔杖吗?他以为黑魔王不敢侵犯他的坟墓吗?蜘蛛般的手猛地伸下去,从邓布利多手中抽出魔杖,一大串火花从杖尖迸出,在前任主人的尸体上闪闪发光,老魔杖终于要为一位新主人效劳了。
图片来源:高品图像