当前位置:

发现

&nbsp > &nbsp

双语美文

&nbsp >&nbsp

正文
哈利·波特与死亡圣器 第25章(上)
2017-01-16 11:20:55来源:爱词霸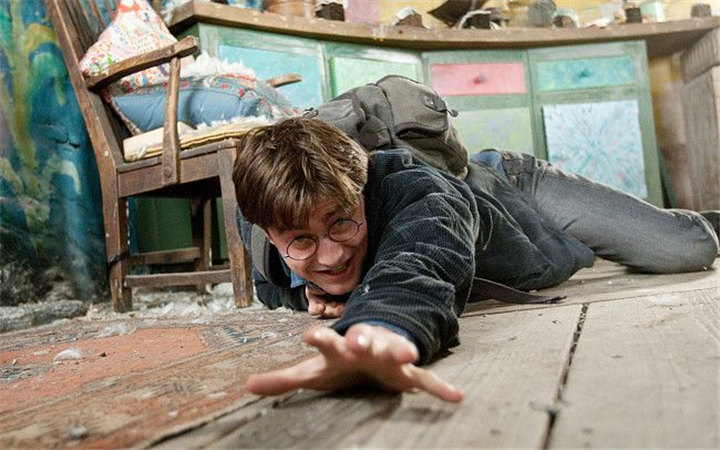 Bill and Fleur's cottage stood alone on a cliff overlooking the sea, its walls embedded with shells and whitewashed. It was a lonely and beautiful place. Wherever Harry went inside the tiny cottage or its garden, he could hear the constant ebb and flow of the sea, like the breathing of some great, slumbering creature. He spent much of the next few days making excuses to escape the crowded cottage, craving the cliff-top view of open sky and wide, empty sea, and the feel of cold, salty wind on his face.
The enormity of his decision not to race Voldemort to the wand still scared Harry. He could not remember, ever before, choosing not to act. He was full of doubts, doubts that Ron could not help voicing whenever they were together.
比尔和芙蓉的小屋孤零零地屹立在悬崖之上,俯视着大海,墙壁是贝壳嵌成的,刷成了白色。这是一个孤独而美丽的地方。哈利在小屋和花园中无论走到哪儿,都能听到持续的潮起潮落的声音,像某个巨大的怪物沉睡时的呼吸。在接下来的几天里,他一直在寻找借口逃离拥挤的小屋,渴望悬崖顶上辽阔的天空的宽广、空寂的大海,以及冰冷的、咸咸的海风吹拂面颊的感觉。
没有试图赶在伏地魔的前面去拿老魔杖,这个巨大的决定仍然让哈利感到惊骇。他不记得自己以前什么时候选择过不行动。他充满怀疑,而每当他和罗恩在一起时,罗恩也总是忍不住会表达出这些怀疑。
"What if Dumbledore wanted us to work out the symbol in time to get the wand?" "What if working out what the symbol meant made you 'worthy' to get the Hallows?" "Harry, if that really is the Elder Wand, how the hell are we supposed to finish off You-Know-Who?" Harry had no answers: There were moments when he wondered whether it had been outright madness not to try to prevent Voldemort breaking open the tomb. He could not even explain satisfactorily why he had decided against it: Every time he tried to reconstruct the internal arguments that had led to his decision, they sounded feebler to him.
"如果邓布利多希望我们及时弄懂那个标志并拿到老魔杖,怎么办?"
"如果弄懂那个标志就意味着你'有资格'去获取圣器,怎么办?"
"哈利,如果那真的是老魔杖,我们还有什么办法干掉神秘人呢?"
哈利没有答案。有的时候他在疑惑,没有试图阻止伏地魔砸开坟墓,是不是十分愚蠢的行为。他甚至不能满意地解释为什么他决定不去反抗:每一次他试图推想导致他做出决定的内心依据,都觉得它们越来越站不住脚。
The odd thing was that Hermione's support made him feel just as confused as Ron's doubts. Now forced to accept that the Elder Wand was real, she maintained that it was an evil object, and that the way Voldemort had taken possession of it was repellent, not to be considered.
"You could never have done that, Harry," she said again and again. "You couldn't have broken into Dumbledore's grave."
But the idea of Dumbledore's corpse frightened Harry much less than the possibility that he might have misunderstood the living Dumbledore's intentions. He felt that he was still groping in the dark; he had chosen his path but kept looking back, wondering whether he had misread the signs, whether he should not have taken the other way. From time to time, anger at Dumbledore crashed over him again, powerful as the waves slamming themselves against the cliff beneath the cottage, anger that Dumbledore had not explained before he died.
奇怪的是,赫敏的支持和罗恩的怀疑同样让他感到困惑。在被迫承认老魔杖真的存在后,赫敏坚持认为它是一个邪恶的东西,认为伏地魔占有它的方式是令人厌恶的,想都不该想的。
"你绝不会那样做的,哈利,"她说了一遍又一遍,"你绝不可能闯进邓布利多的坟墓。"
但是哈利觉得,比起可能误解邓布利多生前的意图,面对邓布利多的遗体倒并不那么可怕。他感到自己仍然在黑暗中摸索,选择了一条路却不停地回头看,怀疑是否读错了路标,是否本该走另外一条路。对邓布利多的恼恨不时地再次涌上他的心头,就像小屋下面的海水击打悬崖一般强烈,他恼恨邓布利多在去世前没有解释清楚。
"But is he dead?" said Ron, three days after they had arrived at the cottage. Harry had been staring out over the wall that separated the cottage garden from the cliff when Ron and Hermione had found him; he wished they had not, having no wish to join in with their argument.
"Yes, he is, Ron, please don't start that again!"
"Look at the facts, Hermione," said Ron, speaking across Harry, who continued to gaze at the horizon. "The silver doe. The sword. The eye Harry saw in the mirror —"
"Harry admits he could have imagined the eye! Don't you, Harry?"
"I could have," said Harry without looking at her.
"但是他死了吗?"在他们抵达小屋三天后,罗恩说。刚才哈利正凝望着花园与悬崖之间的隔墙外面,两个同伴找到了他。哈利不想加入他们的争辩,真的希望他们没有找来。
"是的,他死了。罗恩,求你不要再说那个啦!"
"看看事实,赫敏,"罗恩隔着哈利说道,哈利继续凝视着天边,"银色的牝鹿。宝剑。哈利在镜子里看到的眼睛——"
"哈利承认眼睛可能是他的错觉!不是吗,哈利?"
"可能是。"哈利说,但没有看赫敏。
"But you don't think you did, do you?" asked Ron.
"No, I don't," said Harry.
"There you go!" said Ron quickly, before Hermione could carry on. "If it wasn't Dumbledore, explain how Dobby knew we were in the cellar, Hermione?"
"I can't — but can you explain how Dumbledore sent him to us if he's lying in a tomb at Hogwarts?"
"但是你认为不是错觉,对吗?"罗恩问。
"对。"哈利说。
"这就对了!"罗恩赶紧说道,不让赫敏插话,"如果那不是邓布利多,请解释一下多比是怎么知道我们在地牢里的,赫敏?"
"我不能——但是你能解释邓布利多是怎么派多比来救我们的吗?如果他躺在霍格沃茨的坟墓里的话?"
"I dunno, it could've been his ghost!"
"Dumbledore wouldn't come back as a ghost," said Harry. There was little about Dumbledore he was sure of now, but he knew that much. "He would have gone on."
"What d'you mean, 'gone on'?" asked Ron, but before Harry could say any more, a voice behind them said, " 'Arry?"
Fleur had come out of the cottage, her long silver hair flying in the breeze.
"我不知道,可能是他的幽灵!"
"邓布利多不会变成幽灵回来的。"哈利说。关于邓布利多,他现在有把握的事已寥寥无几,但这一点他是知道的:"他可能会继续。"
"'继续'是什么意思?"罗恩问。
哈利刚要回答,一个声音从后面传来:"哈利?"
芙蓉从小屋里出来了,银色的长发在微风中飘舞。
" 'Arry, Grip'ook would like to speak to you. 'E eez in ze smallest bedroom, 'e says 'e does not want to be over'eard."
Her dislike of the goblin sending her to deliver messages was clear; she looked irritable as she walked back around the house.
Griphook was waiting for them, as Fleur had said, in the tiniest of the cottage's three bedrooms, in which Hermione and Luna slept by night. He had drawn the red cotton curtains against the bright, cloudy sky, which gave the room a fiery glow at odds with the rest of the airy, light cottage.
"I have reached my decision, Harry Potter," said the goblin, who was sitting cross-legged in a low chair, drumming its arms with his spindly fingers. "Though the goblins of Gringotts will consider it base treachery, I have decided to help you —"
"哈利,拉环想要和你谈谈。他在最小的卧室里。他说不希望有人偷听。"
她显然很讨厌妖精派她来传递消息,绕着小屋走回去时,她看上去脾气很不好。
正如芙蓉所说,拉环在贝壳小屋三间卧室中最小的一间里等着他们。赫敏和卢娜晚上就睡在这里。妖精拉上了红色棉布窗帘,挡住明亮而多云的天空,房间里映上了火红的光,与小屋淡雅的风格很不谐调。
"我已经做出决定,哈利·波特。"妖精跷着脚坐在一张矮椅子上,细长的手指敲打着扶手,"尽管古灵阁的妖精们会认为这是卑鄙的背叛,但我决定帮助你——"
"That's great!" said Harry, relief surging through him. "Griphook, thank you, we're really —"
"— in return," said the goblin firmly, "for payment."
Slightly taken aback, Harry hesitated.
"How much do you want? I've got gold."
"Not gold," said Griphook. "I have gold."
His black eyes glittered; there were no whites to his eyes.
"太棒了!"哈利说道,轻松的感觉涌遍全身,"拉环,谢谢你,我们真的——"
"——是有偿的,"妖精坚定地说,"要有报酬。"
哈利有点吃惊,犹豫了。
"你要多少?我有金子。"
"不要金子。"拉环说,"金子我有。"
他的黑眼睛闪闪发光,没有眼白。
"I want the sword. The sword of Godric Gryffindor."
Harry's spirits plummeted.
"You can't have that," he said. "I'm sorry."
"Then," said the goblin softly, "we have a problem."
"We can give you something else," said Ron eagerly. "I'll bet the Lestranges have got loads of stuff, you can take your pick once we get into the vault."
He had said the wrong thing. Griphook flushed angrily.
"我要宝剑。戈德里克·格兰芬多的宝剑。"
哈利的心猛地沉了下去。
"这个不行,"他说,"对不起。"
"那么,"妖精轻声说,"事情就麻烦了。"
"我们可以给你别的,"罗恩急切地说,"我打赌莱斯特兰奇夫妇有大量的好东西,只要我们进了金库,你可以随便挑。"
他说错了。拉环气得满脸通红。
"I am not a thief, boy! I am not trying to procure treasures to which I have no right!"
"The sword's ours —"
"It is not," said the goblin.
"We're Gryffindors, and it was Godric Gryffindor's —"
"And before it was Gryffindor's, whose was it?" demanded the goblin, sitting up straight.
"No one's," said Ron. "It was made for him, wasn't it?"
"我不是窃贼,小子!我不会图谋我无权占有的财富!"
"宝剑是我们的——"
"它不是。"妖精说。
"我们是格兰芬多学院的,而宝剑是戈德里克·格兰芬多的——"
"那么在格兰芬多之前,它是谁的?"妖精坐直了身子质问道。
"没有谁,"罗恩说,"那宝剑是为他定制的,不是吗?"
"No!" cried the goblin, bristling with anger as he pointed a long finger at Ron. "Wizarding arrogance again! That sword was Ragnuk the First's, taken from him by Godric Gryffindor! It is a lost treasure, a masterpiece of goblinwork! It belongs with the goblins! The sword is the price of my hire, take it or leave it!"
Griphook glared at them. Harry glanced at the other two, then said, "We need to discuss this, Griphook, if that's all right. Could you give us a few minutes?"
The goblin nodded, looking sour.
"不是!"妖精喊道,用长手指点着罗恩,气得毛发竖立,"又是巫师的狂傲自大!那宝剑是莱格纳克一世的,被格兰芬多拿走了!这是一件丢失的宝物,妖精的杰作!它属于妖精!那把宝剑就是雇佣我的代价,不同意就拉倒!"
拉环对他们怒目而视。哈利看看两个同伴,然后说:"拉环,我们需要商量一下。你能给我们几分钟吗?"
妖精阴沉着脸点点头。
Downstairs in the empty sitting room, Harry walked to the fireplace, brow furrowed, trying to think what to do. Behind him, Ron said, "He's having a laugh. We can't let him have that sword."
"It is true?" Harry asked Hermione. "Was the sword stolen by Gryffindor?"
"I don't know," she said hopelessly. "Wizarding history often skates over what the wizards have done to other magical races, but there's no account that I know of that says Gryffindor stole the sword."
到了楼下无人的起居室,哈利走到壁炉前,紧锁眉头,努力想着对策。罗恩在他身后说:"他在开玩笑吧,我们不能让他占有宝剑。"
"是真的吗?"哈利问赫敏,"宝剑是格兰芬多偷来的?"
"我不知道,"她无奈地说,"魔法史常常把巫师对其他魔法种族做的事情一笔带过。据我了解,记载中没有提到格兰芬多偷了宝剑。"
"It'll be one of those goblin stories," said Ron, "about how the wizards are always trying to get one over on them. I suppose we should think ourselves lucky he hasn't asked for one of our wands."
"Goblins have got good reason to dislike wizards, Ron," said Hermione. "They've been treated brutally in the past."
"Goblins aren't exactly fluffy little bunnies, though, are they?" said Ron. "They've killed plenty of us. They've fought dirty too."
"这又是妖精编的一个故事,"罗恩说,"说巫师总是试图超过他们。我想我们应该觉得幸运,他没有要我们的魔杖。"
"妖精完全有理由讨厌巫师,罗恩,"赫敏说,"他们过去遭受过残酷的待遇。"
"可是,妖精并不是毛茸茸的小兔子,不是吗?"罗恩说,"他们杀死了我们很多人。他们的手段也很卑鄙。"
"But arguing with Griphook about whose race is most underhanded and violent isn't going to make him more likely to help us, is it?"
There was a pause while they tried to think of a way around the problem. Harry looked out of the window at Dobby's grave. Luna was arranging sea lavender in a jam jar beside the headstone.
"Okay," said Ron, and Harry turned back to face him, "how's this? We tell Griphook we need the sword until we get inside the vault, and then he can have it. There's a fake in there, isn't there? We switch them, and give him the fake."
"但是跟拉环争论哪个种族更加阴险残暴,并不会让他更乐意帮助我们,不是吗?"
一阵沉默,三人试图想出解决问题的办法。哈利朝窗外多比的坟墓望去。卢娜正在墓碑旁把海边的紫花匙叶草插进一个果酱瓶里。
"对了,"罗恩说道,哈利转过来看着他,"这样行不行?告诉拉环我们需要那把宝剑,要等进了金库才能给他。那里面不是有个假货吗?我们悄悄换了一下,把假的给他。"
"Ron, he'd know the difference better than we would!" said Hermione. "He's the only one who realized there had been a swap!"
"Yeah, but we could scarper before he realizes —"
He quailed beneath the look Hermione was giving him.
"That," she said quietly, "is despicable. Ask for his help, then double-cross him? And you wonder why goblins don't like wizards, Ron?"
Ron's ears had turned red.
"罗恩,他比我们更能区别出来!"赫敏说道,"他是惟一发现宝剑掉包的人!"
"对,但是我们可以在他发现之前溜掉——"
他在赫敏的眼神面前畏缩了。
"那是卑鄙的。"赫敏轻声说,"请求帮助,然后欺骗他?你还奇怪为什么妖精们不喜欢巫师吗,罗恩?"
罗恩的耳朵红了。
"All right, all right! It was the only thing I could think of! What's your solution, then?"
"We need to offer him something else, something just as valuable."
"Brilliant. I'll go and get one of our other ancient goblin-made swords and you can gift wrap it."
Silence fell between them again. Harry was sure that the goblin would accept nothing but the sword, even if they had something as valuable to offer him. Yet the sword was their one, indispensable weapon against the Horcruxes.
"好,好!我只能想到这个主意!那你有什么办法?"
"我们需要给他别的东西,一件同样贵重的东西。"
"妙极了。我再去找一把妖精制作的古老宝剑,你用礼品纸包装好。"
又是一阵沉默。哈利相信妖精除了那把宝剑,别的什么都不会接受,即使他们能有同样贵重的东西给他。然而,宝剑是他们对付魂器时必不可少的武器。
He closed his eyes for a moment or two and listened to the rush of the sea. The idea that Gryffindor might have stolen the sword was unpleasant to him: He had always been proud to be a Gryffindor; Gryffindor had been the champion of Muggle-borns, the wizard who had clashed with the pureblood-loving Slytherin. . . .
"Maybe he's lying," Harry said, opening his eyes again. "Griphook. Maybe Gryffindor didn't take the sword. How do we know the goblin version of history's right?"
"Does it make a difference?" asked Hermione.
"Changes how I feel about it," said Harry.
He took a deep breath.
他闭了一会儿眼睛,倾听着海浪拍岸的声音。想到格兰芬多可能偷了宝剑,他心里不大舒服。哈利一直以为自己是格兰芬多学院的学生为荣。格兰芬多努力维护麻瓜出身者的权益,曾与迷恋纯血统的斯莱特林有过激烈冲突……
"拉环可能在撒谎,"哈利说,睁开了眼睛,"格兰芬多可能并没有偷那把宝剑。我们怎么知道妖精讲的历史就是正确的呢?"
"这有关系吗?"赫敏问。
"会改变我的感觉。"哈利说。
他深吸了一口气。
"We'll tell him he can have the sword after he's helped us get into that vault — but we'll be careful to avoid telling him exactly when he can have it."
A grin spread slowly across Ron's face. Hermione, however, looked alarmed.
"Harry, we can't —"
"He can have it," Harry went on, "after we've used it on all of the Horcruxes. I'll make sure he gets it then. I'll keep my word."
"我们就对拉环说,等他帮助我们进入金库之后,就可以拥有这把宝剑——但是要说得很小心,别告诉他可以拿到宝剑的确切时间。"
罗恩慢慢地咧嘴一笑,但是赫敏显得很震惊。
"哈利,我们不能——"
"他可以得到它,"哈利接着说,"在我们用它对付完所有的魂器之后。我保证他那时候会得到它。我会守信用的。"
"But that could be years!" said Hermione.
"I know that, but he needn't. I won't be lying . . . really."
Harry met her eyes with a mixture of defiance and shame. He remembered the words that had been engraved over the gateway to Nurmengard: For the Greater Good. He pushed the idea away. What choice did they have?
"I don't like it," said Hermione.
"Nor do I, much," Harry admitted.
"但那可能是很多年之后!"赫敏说。
"这我知道,但是他不必知道。我不会说谎的……真的。"
哈利又倔强又羞愧地迎视着她的目光,想起刻在纽蒙迦德大门上的那句话:为了更伟大的利益。他抛开了那个念头。他们还有什么选择呢?
"我不喜欢。"赫敏说。
"我也不大喜欢。"哈利承认。
"Well, I think it's genius," said Ron, standing up again. "Let's go and tell him."
Back in the smallest bedroom, Harry made the offer, careful to phrase it so as not to give any definite time for the handover of the sword. Hermione frowned at the floor while he was speaking; he felt irritated at her, afraid that she might give the game away. However, Griphook had eyes for nobody but Harry.
"I have your word, Harry Potter, that you will give me the sword of Gryffindor if I help you?"
"Yes," said Harry.
"Then shake," said the goblin, holding out his hand.
"哦,我认为这主意妙极了。"罗恩说着站起身,"我们去告诉他吧。"
回到那间最小的卧室,哈利答应把宝剑给拉环,他措词很小心,没有说出移交宝剑的确切时间。他说话的时候,赫敏皱眉看着地板,哈利很是恼火,怕她泄露了秘密。还好,拉环只盯着哈利而没看别人。
"向我保证,哈利·波特,如果我帮助了你,你会给我格兰芬多的宝剑,是吗?"
"是的。"哈利说。
"那么握手。"妖精说着伸出手来。
Harry took it and shook. He wondered whether those black eyes saw any misgivings in his own. Then Griphook relinquished him, clapped his hands together, and said, "So. We begin!"
It was like planning to break into the Ministry all over again. They settled to work in the smallest bedroom, which was kept, according to Griphook's preference, in semidarkness.
"I have visited the Lestranges' vault only once," Griphook told them, "on the occasion I was told to place inside it the false sword. It is one of the most ancient chambers. The oldest Wizarding families store their treasures at the deepest level, where the vaults are largest and best protected. . . ."
哈利握住妖精的手,不知那双黑眼睛是否在他眼中看出了几分疑虑。拉环松开他的手,拍拍巴掌说道:"那么,我们开始吧!"
就像当初策划潜入魔法部一样,他们在最小的卧室里开始了工作。依着拉环的偏好,屋里保持着半黑暗状态。
"我只去过莱斯特兰奇的金库一次,"拉环对他们说道,"就是奉命把假宝剑放进去那次。那是最古老的密室之一。最古老巫师家族的财物储存在最深的一层,那里的金库最大,并且保护最好……"
They remained shut in the cupboardlike room for hours at a time. Slowly the days stretched into weeks. There was problem after problem to overcome, not least of which was that their store of Polyjuice Potion was greatly depleted.
"There's really only enough left for one of us," said Hermione, tilting the thick mudlike potion against the lamplight.
"That'll be enough," said Harry, who was examining Griphook's hand-drawn map of the deepest passageways.
The other inhabitants of Shell Cottage could hardly fail to notice that something was going on now that Harry, Ron, and Hermione only emerged for mealtimes. Nobody asked questions, although Harry often felt Bill's eyes on the three of them at the table, thoughtful, concerned.
他们把自己关在衣柜般的小房间里,一待就是好几个小时。渐渐地,几天过去了,几星期过去了,要克服的问题一个接一个,其中包括复方汤剂快用光了。
"只够一个人用的了。"赫敏说,一边对着灯光斜举着泥浆般浓稠的汤剂。
"那就够了。"哈利说,他正在研究拉环手绘的最深处的过道地图。
贝壳小屋的其他人不可能不发现异常,因为哈利、罗恩和赫敏只在吃饭的时候出现。没有人问起,但哈利经常感觉到比尔在饭桌上看着他们三个,关切而若有所思。

图片来源:高品图像