当前位置:

发现

&nbsp > &nbsp

双语美文

&nbsp >&nbsp

正文
哈利·波特与死亡圣器 第28章(下)
2017-02-12 11:07:00来源:爱词霸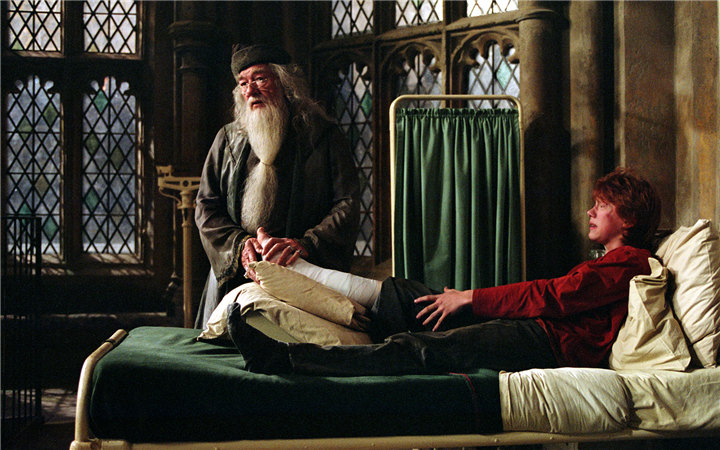 "I can't. It's got to be me, Dumbledore explained it all —"
"Oh, did he now? And did he tell you everything, was he honest with you?"
Harry wanted with all his heart to say "Yes," but somehow the simple word would not rise to his lips. Aberforth seemed to know what he was thinking.
"I knew my brother, Potter. He learned secrecy at our mother's knee. Secrets and lies, that's how we grew up, and Albus . . . he was a natural."
The old man's eyes traveled to the painting of the girl over the mantelpiece. It was, now Harry looked around properly, the only picture in the room. There was no photograph of Albus Dumbledore, nor of anyone else.
"Mr. Dumbledore?" said Hermione rather timidly. "Is that your sister? Ariana?"
"Yes," said Aberforth tersely. "Been reading Rita Skeeter, have you, missy?"
Even by the rosy light of the fire it was clear that Hermione had turned red.
"Elphias Doge mentioned her to us," said Harry, trying to spare Hermione.
"That old berk," muttered Aberforth, taking another swig of mead. "Thought the sun shone out of my brother's every orifice, he did. Well, so did plenty of people, you three included, by the looks of it."
"不能,必须是我,邓布利多解释得很清楚——"
"哦,是吗?那么,他把一切都告诉你了吗,他对你诚实吗?"
哈利多么想说"是的",然而不知怎么,这个简单的词就是不肯来到他的嘴边。阿不福思似乎知道他在想什么。
"我了解我的哥哥,波特。他在我母亲的膝头就学会了保密。秘密和谎言,我们就是这样成长起来的,而阿不思……他天生如此。"
老人的目光转向了壁炉台上的那幅少女画像。此刻哈利已经把周围打量清楚了,知道这是房间里惟一的一幅画。这里没有阿不思·邓布利多和别人的照片。
"邓布利多先生,"赫敏有点胆怯地说,"这是你的妹妹?阿利安娜?"
"对,"阿不福思生硬地说,"读了丽塔·斯基特,是吗,小姑娘?"
即使在红红的火光映照下,也能看出赫敏的脸红了。
"埃菲亚斯·多吉向我们提到过她。"哈利说,想替赫敏解围。
"那个老傻瓜,"阿不福思低声说,喝了一大口蜂蜜酒,"他认为我哥哥每一个毛孔都放射出阳光,哼,许多人都那么想,看样子,你们三个也不例外。"
Harry kept quiet. He did not want to express the doubts and uncertainties about Dumbledore that had riddled him for months now. He had made his choice while he dug Dobby's grave, he had decided to continue along the winding, dangerous path indicated for him by Albus Dumbledore, to accept that he had not been told everything that he wanted to know, but simply to trust. He had no desire to doubt again; he did not want to hear anything that would deflect him from his purpose.
He met Aberforth's gaze, which was so strikingly like his brother's: The bright blue eyes gave the same impression that they were X-raying the object of their scrutiny, and Harry thought that Aberforth knew what he was thinking and despised him for it.
"Professor Dumbledore cared about Harry, very much," said Hermione in a low voice.
"Did he now?" said Aberforth. "Funny thing, how many of the people my brother cared about very much ended up in a worse state than if he'd left 'em well alone."
"What do you mean?" asked Hermione breathlessly.
"Never you mind," said Aberforth.
"But that's a really serious thing to say!" said Hermione. "Are you — are you talking about your sister?"
哈利没有说话。他不想说出几个月来困扰心头的对邓布利多的怀疑和犹豫。他为多比掘墓时就做出了选择,他已经决定沿着阿不思·邓布利多指点的危险,曲折的道路继续前行,虽然邓布利多没有把他需要知道的事情都告诉他,但他只有深信不疑。
他不愿意再去怀疑,他不想听到任何会使他偏离目标的东西。哈利碰到了阿不福思的目光,跟他哥哥的目光惊人地相似:都是明亮的蓝眼睛,都像在透视被审视的对象。哈利觉得阿不福思知道他在想什么,并因此而看不起他。
"邓布利多教授关心哈利,非常关心。"赫敏低声说。
"哦,是吗?"阿不福思说,"真是可笑,有多少我哥哥非常关心的人最后下场可悲,还不如他当初不管他们呢。"
"什么意思?"赫敏屏住呼吸问。
"不关你的事。"阿不福思说。
"但是这句话真的说得很重!"赫敏说,"你——你说的是你妹妹吗?"
Aberforth glared at her: His lips moved as if he were chewing the words he was holding back. Then he burst into speech.
"When my sister was six years old, she was attacked, set upon, by three Muggle boys. They'd seen her doing magic, spying through the back garden hedge: She was a kid, she couldn't control it, no witch or wizard can at that age. What they saw scared them, I expect. They forced their way through the hedge, and when she couldn't show them the trick, they got a bit carried away trying to stop the little freak doing it."
Hermione's eyes were huge in the firelight; Ron looked slightly sick. Aberforth stood up, tall as Albus, and suddenly terrible in his anger and the intensity of his pain.
"It destroyed her, what they did: She was never right again. She wouldn't use magic, but she couldn't get rid of it; it turned inward and drove her mad, it exploded out of her when she couldn't control it, and at times she was strange and dangerous. But mostly she was sweet and scared and harmless.
"And my father went after the bastards that did it," said Aberforth, "and attacked them. And they locked him up in Azkaban for it. He never said why he'd done it, because if the Ministry had known what Ariana had become, she'd have been locked up in St. Mungo's for good. They'd have seen her as a serious threat to the International Statute of Secrecy, unbalanced like she was, with magic exploding out of her at moments when she couldn't keep it in any longer.
阿不福思狠狠地瞪着她,嘴唇蠕动着,像是在咀嚼他忍住不说的话。然后,他突然打开了话匣子。
"我妹妹六岁时,遭到三个麻瓜男孩的袭击。他们透过后花园的树篱看见她在变魔法。她还是个孩子,还不能收放自如,那个年纪的巫师都不能。我猜,那些男孩是被眼前的情景吓着了。他们从树篱中挤了进来,我妹妹没法告诉他们魔法是怎么变的,他们就失去控制,想阻止小怪物再变魔法。"
火光里,赫敏的眼睛睁得大大的,罗恩看上去有点不舒服。阿不福思站了起来,和阿不思一样高大,因为愤怒,因为剧烈的痛苦,他突然显得很可怕。
"他们做的事情把她毁了,她再也没有恢复正常。她不愿意使用魔法,但又没法摆脱。魔法转入了她的内心,把她逼疯了,在她不能控制的时候,魔法就会在她身上发作。她有时候又古怪又危险,但大多数时候很可爱,怯生生的,对人没有伤害。"
"我父亲去找那几个混蛋算账,"阿不福思说道,"把他们教训了一顿,结果被关进了阿兹卡班。他从来没说他为什么那么做,如果魔法部知道了阿利安娜的状况,她将被终生囚禁在圣芒戈医院里。他们会把她看作是对《国际保密法》的一个严重威胁,因为她精神错乱,在无法控制的时候她内在的魔法就会爆发出来。"
"We had to keep her safe and quiet. We moved house, put it about she was ill, and my mother looked after her, and tried to keep her calm and happy.
"I was her favorite," he said, and as he said it, a grubby schoolboy seemed to look out through Aberforth's wrinkles and tangled beard. "Not Albus, he was always up in his bedroom when he was home, reading his books and counting his prizes, keeping up with his correspondence with 'the most notable magical names of the day,' " Aberforth sneered. "He didn't want to be bothered with her. She liked me best. I could get her to eat when she wouldn't do it for my mother, I could get her to calm down when she was in one of her rages, and when she was quiet, she used to help me feed the goats.
"Then, when she was fourteen . . . See, I wasn't there," said Aberforth. "If I'd been there, I could have calmed her down. She had one of her rages, and my mother wasn't as young as she was, and . . . it was an accident. Ariana couldn't control it. But my mother was killed."
Harry felt a horrible mixture of pity and repulsion; he did not want to hear any more, but Aberforth kept talking, and Harry wondered how long it had been since he had spoken about this; whether, in fact, he had ever spoken about it.
"So that put paid to Albus's trip round the world with little Doge. The pair of 'em came home for my mother's funeral and then Doge went off on his own, and Albus settled down as head of the family. Ha!"
Aberforth spat into the fire.
"我们必须保证她的安全,并把她隐藏起来。我们搬了家,谎称她病了,我母亲负责照料她,尽量使她平静、快乐。"
"她最喜欢我,"阿不福思说,他说这话的时候,似乎一个邋遢的男生正在透过阿不福思满脸的皱纹和纠结的胡子朝外窥视,"而不是阿不思。阿不思在家时总待在楼上自己的卧室里,读他的书,数他的奖状,跟'当时最有名的魔法大师'通信,"阿不福思饥笑地说,"阿不思根本不愿意为她操心。她最喜欢我。我母亲没法让她吃饭时,我能哄她吃下去;她脾气发作时,我能让她平静下来;她安静时,经常帮我一起喂羊。"
"后来,她十四岁了……唉,当时我不在,"阿不福思说,"如果我在,就会让她平静下来。她脾气又发作了,我母亲已不像以前那么年轻,结果……那是个意外,阿利安娜没法控制自己,我母亲被杀死了。"
哈利感到一种强烈的同情和抵触情绪,他不想再听了。可是阿不福思还在继续往下说,哈利心想老人不知多长时间没有说过这件事了,也许他从来就没对人说起过。
"这样,阿不思和小多吉一起周游世界的计划就破灭了。他们俩回来参加了我母亲的葬礼,然后多吉独自出发了,阿不思作为一家之长留了下来。呸!"
阿不福思朝火里啐了一口。
"I'd have looked after her, I told him so, I didn't care about school, I'd have stayed home and done it. He told me I had to finish my education and he'd take over from my mother. Bit of a comedown for Mr. Brilliant, there's no prizes for looking after your half-mad sister, stopping her blowing up the house every other day. But he did all right for a few weeks . . . till he came."
And now a positively dangerous look crept over Aberforth's face.
"Grindelwald. And at last, my brother had an equal to talk to, someone just as bright and talented as he was. And looking after Ariana took a backseat then, while they were hatching all their plans for a new Wizarding order, and looking for Hallows, and whatever else it was they were so interested in. Grand plans for the benefit of all Wizardkind, and if one young girl got neglected, what did that matter, when Albus was working for the greater good?
"But after a few weeks of it, I'd had enough, I had. It was nearly time for me to go back to Hogwarts, so I told 'em, both of 'em, face-to-face, like I am to you, now," and Aberforth looked down at Harry, and it took little imagination to see him as a teenager, wiry and angry, confronting his elder brother. "I told him, you'd better give it up now. You can't move her, she's in no fit state, you can't take her with you, wherever it is you're planning to go, when you're making your clever speeches, trying to whip yourselves up a following. He didn't like that," said Aberforth, and his eyes were briefly occluded by the firelight on the lenses of his glasses: They shone white and blind again. "Grindelwald didn't like that at all.
He got angry. He told me what a stupid little boy I was, trying to stand in the way of him and my brilliant brother. . . . Didn't I understand, my poor sister wouldn't have to be hidden once they'd changed the world, and led the wizards out of hiding, and taught the Muggles their place?
"我对他说,我愿意照顾妹妹,我不在乎上学的事,我可以待在家里自学。他却说我必须完成学业,他来接替我母亲。这对于精英先生来说是有点失落的。照顾一个半疯的妹妹,每隔一天就要阻止她把房子炸飞,这可没人给他发奖。不过最初几个星期他做得挺好……后来那个人来了。"
这时,阿不福思脸上露出了一种十分危险的神情。
"格林德沃。终于,我哥哥有了个谈话的对手,有了个跟他一样聪明、有才华的人。照顾阿利安娜就成了第二位的了,他们整天都在酝酿建立新巫师秩序的计划,寻找圣器,做他们所有非常感兴趣的事情。为了宏伟的计划,为了整个巫师界的利益,一个小姑娘受到忽视又有什么关系?阿不思在为更伟大的利益工作呢!"
"几个星期后,我受够了,真是受够了。那时我快要回霍格沃茨了,于是我告诉他们,告诉他们两个,面对面地,就像我现在对着你一样,"阿不福思低头看着哈利,不难想象他十几岁时的模样,精瘦结实,满腔怒火,勇敢地面对自己的哥哥。"我告诉他,你最好趁早放弃。你不能转移她,她的状态不行,你不能带她一起走,去你打算去的地方,发表你那些聪明的讲话,给自己煽动起一批追随者。他不爱听。"阿不福思说,火光照在他的镜片上,暂时遮住了他的眼睛,镜片上又是白光一片,"
格林德沃听了很不高兴,他生气了,说我是个愚蠢的小男孩,想当他和我那出色的哥哥的绊脚石……还说难道我不明白?一旦他们改变了世界,让巫师们不再躲躲藏藏,让麻瓜们安分守己,我那可怜的妹妹就再也不用东藏西藏了。"
"And there was an argument . . . and I pulled out my wand, and he pulled out his, and I had the Cruciatus Curse used on me by my brother's best friend — and Albus was trying to stop him, and then all three of us were dueling, and the flashing lights and the bangs set her off, she couldn't stand it —"
The color was draining from Aberforth's face as though he had suffered a mortal wound.
"— and I think she wanted to help, but she didn't really know what she was doing, and I don't know which of us did it, it could have been any of us — and she was dead."
His voice broke on the last word and he dropped down into the nearest chair. Hermione's face was wet with tears, and Ron was almost as pale as Aberforth. Harry felt nothing but revulsion: He wished he had not heard it, wished he could wash his mind clean of it.
"I'm so . . . I'm so sorry," Hermione whispered.
"Gone," croaked Aberforth. "Gone forever."
He wiped his nose on his cuff and cleared his throat.
" 'Course, Grindelwald scarpered. He had a bit of a track record already, back in his own country, and he didn't want Ariana set to his account too. And Albus was free, wasn't he? Free of the burden of his sister, free to become the greatest wizard of the —"
"我们争论起来……我抽出我的魔杖,他也抽出了他的,我中了钻心咒,是我哥哥最好的朋友下的手——阿不思试图阻止他。于是我们三人展开了决斗,一道道闪光和一声声巨响刺激了我妹妹,她无法承受——"
阿不福思的脸上突然没了血色,仿佛受了致命的创伤。
"——我猜她是想来帮忙,但她不清楚自己在做什么,我不知道究竟是我们中间谁干的,谁都有可能——她死了。"
说到最后一句,他声音哽咽了,扑通跌坐在最近的那张椅子上。赫敏满脸泪水,罗恩的脸色几乎和阿不福思的一样苍白。哈利只感到一阵难受:他希望没有听见,希望能把这件事从脑子里洗掉。
"我……我很抱歉。"赫敏小声说。
"没了,"阿不福思哑着嗓子说,"永远没了。"
他用袖口擦擦鼻子,清了清嗓子。
"当然啦,格林德沃逃跑了。他在自己国内已经有了点前科,可不希望把阿利安娜的账也算在他头上。阿不思解脱了,不是吗?摆脱了妹妹这个负担,可以无牵无挂地去做最伟大的巫师——"
"He was never free," said Harry.
"I beg your pardon?" said Aberforth.
"Never," said Harry. "The night that your brother died, he drank a potion that drove him out of his mind. He started screaming, pleading with someone who wasn't there. 'Don't hurt them, please . . . hurt me instead.' "
Ron and Hermione were staring at Harry. He had never gone into details about what had happened on the island on the lake: The events that had taken place after he and Dumbledore had returned to Hogwarts had eclipsed it so thoroughly.
"He thought he was back there with you and Grindelwald, I know he did," said Harry, remembering Dumbledore whimpering, pleading. "He thought he was watching Grindelwald hurting you and Ariana. . . . It was torture to him, if you'd seen him then, you wouldn't say he was free."
Aberforth seemed lost in contemplation of his own knotted and veined hands. After a long pause he said, "How can you be sure, Potter, that my brother wasn't more interested in the greater good than in you? How can you be sure you aren't dispensable, just like my little sister?"
A shard of ice seemed to pierce Harry's heart.
"他从来没有解脱。"哈利说。
"你说什么?"阿不福思说。
"从来没有,"哈利说,"你哥哥死去的那天夜里喝了一种毒药,变得精神错乱。他开始喊叫,向一个不在场的人发出恳求:'别伤害他们,求求你……冲我来吧。'"
罗恩和赫敏都吃惊地看着哈利。他从来没有跟他们讲过在湖心小岛的具体细节。他和邓布利多回到霍格沃茨后发生的事情,使那一幕显得毫不重要了。
"他以为自己回到了从前,跟你和格林德沃在一起,我知道是这样。"哈利说道,想起了邓布利多带着呜咽的恳求,"他以为自己正眼看着格林德沃伤害你和阿利安娜……这对他来说太痛苦了,如果当时你看见他,就不会说他已经解脱了。"
阿不福思出神地盯着自己骨节突出、布满青筋的手。过了良久,他说:"波特,你怎么能够确定,我哥哥更感兴趣的不是更伟大的利益而是你呢?你怎么能够确定你不像我的小妹妹一样是可有可无的呢?"
似乎有锋利的冰碴刺中了哈利的心。
"I don't believe it. Dumbledore loved Harry," said Hermione.
"Why didn't he tell him to hide, then?" shot back Aberforth. "Why didn't he say to him, 'Take care of yourself, here's how to survive'?"
"Because," said Harry before Hermione could answer, "sometimes you've got to think about more than your own safety! Sometimes you've got to think about the greater good! This is war!"
"You're seventeen, boy!"
"I'm of age, and I'm going to keep fighting even if you've given up!"
"Who says I've given up?"
" 'The Order of the Phoenix is finished,' " Harry repeated. " 'You-Know-Who's won, it's over, and anyone who's pretending different's kidding themselves.' "
"I don't say I like it, but it's the truth!"
"我不相信。邓布利多是爱哈利的。"赫敏说。
"那他为什么不叫哈利躲藏起来?"阿不福思反驳道,"为什么不叫哈利好好地照顾自己,保全性命?"
"因为,"哈利抢在赫敏前面回答,"有时候你必须考虑比自身安全更多的东西!有时候你必须考虑更伟大的利益!这是战争!"
"你才十七岁,孩子!"
"我成人了,我要继续战斗,即使你已经放弃!"
"谁说我放弃了?"
"'凤凰社完了,'"哈利重复着他的话,"'神秘人赢了,大势已去,那些假装不承认这些的人是在欺骗自己。'"
"我没有说我愿意这样,但这是事实!"
"No, it isn't," said Harry. "Your brother knew how to finish You-Know-Who and he passed the knowledge on to me. I'm going to keep going until I succeed — or I die. Don't think I don't know how this might end. I've known it for years."
He waited for Aberforth to jeer or to argue, but he did not. He merely scowled.
"We need to get into Hogwarts," said Harry again. "If you can't help us, we'll wait till daybreak, leave you in peace, and try to find a way in ourselves. If you can help us — well, now would be a great time to mention it."
Aberforth remained fixed in his chair, gazing at Harry with the eyes that were so extraordinarily like his brother's. At last he cleared his throat, got to his feet, walked around the little table, and approached the portrait of Ariana.
"You know what to do," he said.
She smiled, turned, and walked away, not as people in portraits usually did, out of the sides of their frames, but along what seemed to be a long tunnel painted behind her. They watched her slight figure retreating until finally she was swallowed by the darkness.
"不,不是,"哈利说道,"你哥哥知道怎么干掉神秘人,他把情况告诉了我。我要继续下去,直到成功——或者死去。别以为我不知道最后可能会是什么结局。早在几年前我就知道了。"
哈利等待着阿不福思的饥笑或者反驳,但他没有,他只是阴沉着脸。
"我们需要进入霍格沃茨,"哈利又说道,"如果你不能帮忙,我们就等到天亮,自己想办法,不再麻烦你。如果你能帮忙——那现在正好可以说出来。"
阿不福思仍然一动不动地坐在椅子上,怔怔地盯着哈利,那双眼睛像极了他哥哥的。最后,他清清嗓子,站了起来,绕过小桌子,走向阿利安娜的肖像。
"你知道该怎么做。"他说。
那少女微微一笑,转身走了,她不像平常肖像里的人那样消失在画框旁边,而似乎是顺着画在她身后的一条长长的隧道走去。他们注视着她纤弱的身影越走越远,最后被黑暗吞没了。
"Er — what — ?" began Ron.
"There's only one way in now," said Aberforth. "You must know they've got all the old secret passageways covered at both ends, dementors all around the boundary walls, regular patrols inside the school from what my sources tell me. The place has never been so heavily guarded. How you expect to do anything once you get inside it, with Snape in charge and the Carrows as his deputies . . . well, that's your lookout, isn't it? You say you're prepared to die."
"But what . . . ?" said Hermione, frowning at Ariana's picture.
A tiny white dot had reappeared at the end of the painted tunnel, and now Ariana was walking back toward them, growing bigger and bigger as she came. But there was somebody else with her now, someone taller than she was, who was limping along, looking excited. His hair was longer than Harry had ever seen it: He appeared to have suffered several gashes to his face and his clothes were ripped and torn. Larger and larger the two figures grew, until only their heads and shoulders filled the portrait. Then the whole thing swung forward on the wall like a little door, and the entrance to a real tunnel was revealed. And out of it, his hair overgrown, his face cut, his robes ripped, clambered the real Neville Longbottom, who gave a roar of delight, leapt down from the mantelpiece, and yelled, "I knew you'd come! I knew it, Harry!"
"呃——这是怎么——?"罗恩想问个究竟。
"现在只有一条路能进去,"阿不福思说,"你必须知道,整个学校从来没有这样严防死守过。据我得到的消息,他们已经把所有古老的秘密通道的两头都堵死了,围墙边都是食死徒,校内固定有人巡逻。斯内普独掌大权,卡罗兄妹当他的左膀右臂,你就是进到了学校,又能有什么作为呢……唉,那是你自己的事了,对吗?你说你已经做好赴死的准备。"
"可是……"赫敏皱眉望着阿利安娜的画像,说道。
一个小白点在画中的隧道尽头出现了,阿利安娜朝着他们走了回来,越来越近,越来越大。但她身边还有一个人,个子比她高,走路一瘸一拐的,满脸的兴奋。他的头发比哈利以前见过的任何时候都长,脸上似乎划了几道口子,衣服被撕扯得不像样子。两个人影越来越大,最后他们的脑袋和肩膀占满了整个肖像。这时墙上的肖像如同一扇小门一样打开了,露出一条真正的隧道的入口。真正的纳威·隆巴顿从隧道里爬出来,头发长得出奇,满脸伤痕,长袍被扯烂了。他狂喜地大吼一声,从壁炉台上跳了下来,嚷道:"我知道你会来!我早就知道,哈利!"

图片来源:高品图像