当前位置:

发现

&nbsp > &nbsp

双语美文

&nbsp >&nbsp

正文
哈利·波特与死亡圣器 第31章(下)
2017-03-05 10:40:00来源:爱词霸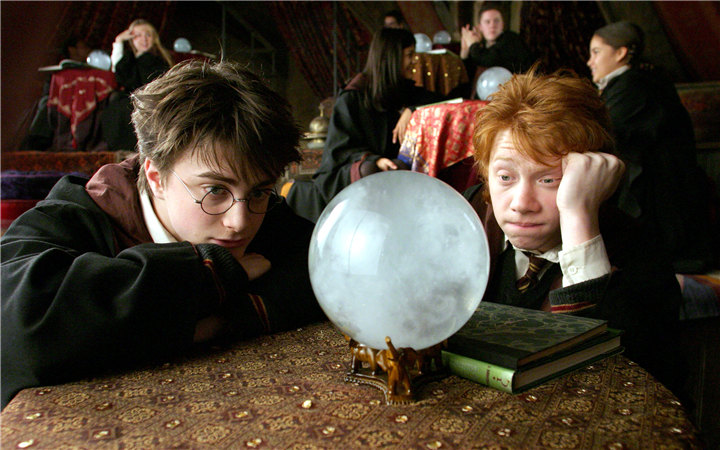 "I thought you were supposed to be with Teddy at your mother's?"
"I couldn't stand not knowing —" Tonks looked anguished. "She'll look after him — have you seen Remus?"
"He was planning to lead a group of fighters into the grounds —"
Without another word, Tonks sped off.
"Ginny," said Harry, "I'm sorry, but we need you to leave too. Just for a bit. Then you can come back in."
Ginny looked simply delighted to leave her sanctuary.
"And then you can come back in!" he shouted after her as she ran up the steps after Tonks. "You've got to come back in!"
"Hang on a moment!" said Ron sharply. "We've forgotten someone!"
"Who?" asked Hermione.
"The house-elves, they'll all be down in the kitchen, won't they?"
"You mean we ought to get them fighting?" asked Harry.
"No," said Ron seriously, "I mean we should tell them to get out. We don't want any more Dobbies, do we? We can't order them to die for us —"
"你不是在你母亲家里陪着小泰迪吗?"
"我受不了蒙在鼓里的滋味——"唐克斯显得很痛苦,"我母亲会照顾他的——你看见莱姆斯了吗?"
"他要领一支队伍去操场作战——"
唐克斯二话没说就跑了。
"金妮。"哈利说,"对不起,我们需要你也离开一下。就一会儿,然后你可以再进来。"
金妮似乎正巴不得离开她的庇护所呢。
"然后你可以再进来!"哈利看见金妮跟着唐克斯跑上石阶,忙冲着她的背影喊道,"你一定要再进来!"
"等等!"罗恩突然说道,"我们把谁给忘记了!"
"谁?"赫敏问。
"家养小精灵,他们都在下面的厨房里,不是吗?"
"你是说应该让他们参加战斗?"哈利问。
"不,"罗恩严肃地说,"我是说应该叫他们赶紧逃走。我们不想再出现更多的多比,对吗?不能要求他们为我们去死——"
There was a clatter as the basilisk fangs cascaded out of Hermione's arms. Running at Ron, she flung them around his neck and kissed him full on the mouth. Ron threw away the fangs and broomstick he was holding and responded with such enthusiasm that he lifted Hermione off her feet.
"Is this the moment?" Harry asked weakly, and when nothing happened except that Ron and Hermione gripped each other still more firmly and swayed on the spot, he raised his voice. "OI! There's a war going on here!"
Ron and Hermione broke apart, their arms still around each other.
"I know, mate," said Ron, who looked as though he had recently been hit on the back of the head with a Bludger, "so it's now or never, isn't it?"
"Never mind that, what about the Horcrux?" Harry shouted. "D'you think you could just — just hold it in until we've got the diadem?"
"Yeah — right — sorry —" said Ron, and he and Hermione set about gathering up fangs, both pink in the face.
It was clear, as the three of them stepped back into the corridor upstairs, that in the minutes that they had spent in the Room of Requirement the situation within the castle had deteriorated severely: The walls and ceiling were shaking worse than ever; dust filled the air, and through the nearest window, Harry saw bursts of green and red light so close to the foot of the castle that he knew the Death Eaters must be very near to entering the place. Looking down, Harry saw Grawp the giant meandering past, swinging what looked like a stone gargoyle torn from the roof and roaring his displeasure.
哗啪啪,赫敏怀里的蛇怪牙齿纷纷落在地上。她奔向罗恩,一把搂紧他的脖子,吻在他的嘴唇。罗恩丢掉手里的蛇牙和扫帚,以火热的激情做出回应,把赫敏抱得双脚离地。
"这时间合适吗?"哈利底气不足地说,罗恩和赫敏却搂得更紧了,在那里相拥着微微摇晃,哈利提高了声音,"喂!这里正打仗呢!"
罗恩和赫敏猛地松开,但胳膊还搂着对方。
"我知道,伙计,"罗恩说道,他的模样就像被一个游走球砸中了后脑勺,"机不可失,时不再来嘛,对吧?"
"这事先放一放吧,魂器怎么办?"哈利大声说,"你们能不能——能不能先忍一忍,等我们找到冠冕再说?"
"噢——好的——对不起——"罗恩说,然后赶紧和赫敏捡起蛇怪的牙齿,两个人的脸都红红的。
三个人回到楼上的走廊里,才发现就在刚才进入有求必应屋的几分钟内,城堡里的局势严重恶化:墙壁和天花板抖得更厉害了,空气里灰尘弥漫。哈利透过近旁的窗户看见一道道绿光和红光在城堡脚下很近的地方飞射,他知道食死徒肯定很快就要冲进来了。哈利往下望去,巨人格洛普漫无目的地走过,一边甩着一个像是从房顶上拽下来的石兽,一边不高兴地吼叫着。
"Let's hope he steps on some of them!" said Ron as more screams echoed from close by.
"As long as it's not any of our lot!" said a voice: Harry turned and saw Ginny and Tonks, both with their wands drawn at the next window, which was missing several panes. Even as he watched, Ginny sent a well-aimed jinx into a crowd of fighters below.
"Good girl!" roared a figure running through the dust toward them, and Harry saw Aberforth again, his gray hair flying as he led a small group of students past. "They look like they might be breaching the north battlements, they've brought giants of their own!"
"Have you seen Remus?" Tonks called after him.
"He was dueling Dolohov," shouted Aberforth, "haven't seen him since!
"Tonks," said Ginny, "Tonks, I'm sure he's okay —"
But Tonks had run off into the dust after Aberforth.
Ginny turned, helpless, to Harry, Ron, and Hermione.
"They'll be all right," said Harry, though he knew they were empty words. "Ginny, we'll be back in a moment, just keep out of the way, keep safe — come on!" he said to Ron and Hermione, and they ran back to the stretch of wall beyond which the Room of Requirement was waiting to do the bidding of the next entrant.
"但愿他能踩倒几个人!"罗恩说,旁边又传来几声惨叫。
"只要不是我们自己人就行!"一个声音说,哈利一扭头,看见金妮和唐克斯都已拔出魔杖,站在旁边缺了几块玻璃的窗户前。就在他注视她们的当儿,金妮朝下面一群搏斗的人中发了个恶咒,打得很准。
"好姑娘!"尘土中一个身影朝他们跑过来吼道,哈利又看见了阿不福思,他灰色的头发四下飘舞,领着一小群学生匆匆而过,"看样子他们要攻破北面的墙垛,他们也带了巨人!"
"你看见莱姆斯了吗?"唐克斯冲着他的背影大声问。
"刚才他在和多洛霍夫决斗,"阿不福思喊道,"后来就没看见他了!"
"唐克斯,"金妮说,"唐克斯,我相信他没事的——"
可是唐克斯已经在飞扬的尘土中跑去追赶阿不福思了。
金妮无奈地转过身,看着哈利、罗恩和赫敏。
"他们不会有事的,"哈利说,但也知道这句话空洞无力,"金妮,我们过一会儿就回来,你要远离危险,注意安全——走吧!"他对罗恩、赫敏说,三个人跑回那面墙,墙后面就是有求必应屋,正等着执行进入者的吩咐。
I need the place where everything is hidden, Harry begged of it inside his head, and the door materialized on their third run past.
The furor of the battle died the moment they crossed the threshold and closed the door behind them: All was silent. They were in a place the size of a cathedral with the appearance of a city, its towering walls built of objects hidden by thousands of long-gone students.
"And he never realized anyone could get in?" said Ron, his voice echoing in the silence.
"He thought he was the only one," said Harry. "Too bad for him I've had to hide stuff in my time . . . this way," he added, "I think it's down here. . . ."
He passed the stuffed troll and the Vanishing Cabinet Draco Malfoy had mended last year with such disastrous consequences, then hesitated, looking up and down aisles of junk; he could not remember where to go next. . . .
"Accio Diadem!" cried Hermione in desperation, but nothing flew through the air toward them. It seemed that, like the vault at Gringotts, the room would not yield its hidden objects that easily.
"Let's split up," Harry told the other two. "Look for a stone bust of an old man wearing a wig and a tiara! It's standing on a cupboard and it's definitely somewhere near here. . . ."
They sped off up adjacent aisles; Harry could hear the others' footsteps echoing through the towering piles of junk, of bottles, hats, crates, chairs, books, weapons, broomsticks, bats. . . .
"Somewhere near here," Harry muttered to himself. "Somewhere . . . somewhere . . ."
我需要那个藏东西的地方,哈利在脑海里恳求道,当他们第三次跑过时,门出现了。
他们刚跨过门槛,把门关上,战斗的喧闹声就听不见了,四下里一片寂寞。这地方有教堂那么大,周围的景物看着像一座城市,那些林立的高墙,是由成千上万个早已不在人世的学生所藏的东西组成的。
"他从来不知道别人也能进来?"罗恩说,声音在寂静中回响。
"他以为只有他能进来,"哈利说道,"也该他倒霉,我那时碰巧要藏东西……这边走,"他又说,"我想就在这里……"
他经过巨怪标本,又经过德拉科·马尔福去年试图修理、结果却很悲惨的那个消失柜,然后他迟疑了,打量着垃圾堆之间的通道,不记得接下来该往哪儿走……
"冠冕飞来。"赫敏焦急地大喊一声,可是并没有东西朝他们飞来。这房间似乎也像古灵阁的地下金库一样,不肯轻易把它收藏的东西交出来。
"我们分头寻找吧,"哈利对两个同伴说,"找到一个戴发套和头冠的老头儿的半身石像!它放在一个大柜子上,肯定就在这附近的什么地方……"
他们顺着邻近的几条通道迅速跑开。哈利听见两个同伴的脚步声在高高耸立的垃圾堆间回响,瓶子、帽子、箱子、椅子、书本、武器、扫帚、球棒……
"就在这附近的什么地方,"哈利喃喃自语,"就在……就在……"
Deeper and deeper into the labyrinth he went, looking for objects he recognized from his one previous trip into the room. His breath was loud in his ears, and then his very soul seemed to shiver: There it was, right ahead, the blistered old cupboard in which he had hidden his old Potions book, and on top of it, the pockmarked stone warlock wearing a dusty old wig and what looked like an ancient, discolored tiara.
He had already stretched out his hand, though he remained ten feet away, when a voice behind him said, "Hold it, Potter."
He skidded to a halt and turned around. Crabbe and Goyle were standing behind him, shoulder to shoulder, wands pointing right at Harry. Through the small space between their jeering faces he saw Draco Malfoy.
"That's my wand you're holding, Potter," said Malfoy, pointing his own through the gap between Crabbe and Goyle.
"Not anymore," panted Harry, tightening his grip on the hawthorn wand. "Winners, keepers, Malfoy. Who's lent you theirs?"
"My mother," said Draco.
Harry laughed, though there was nothing very humorous about the situation. He could not hear Ron or Hermione anymore. They seemed to have run out of earshot, searching for the diadem.
"So how come you three aren't with Voldemort?" asked Harry.
"We're gonna be rewarded," said Crabbe: His voice was surprisingly soft for such an enormous person; Harry had hardly ever heard him speak before. Crabbe was smiling like a small child promised a large bag of sweets. "We 'ung back, Potter. We decided not to go. Decided to bring you to 'im."
他在迷宫里越走越深,寻找着上次进这个房间看见过的东西,耳边响着自己粗重的呼吸声。突然,他的灵魂似乎颤抖起来:有了,就在前面。那个表面起泡的旧柜子,他曾把那本旧魔药课本藏在了里面,而在柜子的顶上,正是那个布满麻点的男巫半身像,头上戴着灰扑扑的旧发套,还有一个古旧褪色的王冠一样的东西。
虽然还差十来步,哈利已经把手伸了出去,可是突然他身后有个声音说道:"站住,波特。"
哈利脚下打着滑停了下来,转身一看,克拉布和高尔并肩站在他身后,都用魔杖指着他。在两张讥讽的面孔之间狭小的空当里,他看见了德拉科·马尔福。
"你拿的是我的魔杖,波特。"马尔福说,他自己手里的魔杖从克拉布和高尔之间的空隙里指着哈利。
"已经不是了,"哈利喘着气说,一边攥紧手里的山楂木魔杖,"谁赢的归谁,马尔福。谁把自己的魔杖借给了你?"
"我母亲。"德拉科说。
哈利笑了起来,其实这情形并没有什么可笑的。他已经听不见罗恩和赫敏的声音,他们大概跑到远处去寻找冠冕了。
"你们三个怎么没跟伏地魔在一起?"哈利问。
"我们想得到奖赏。"克拉布说,对于这么一个大块头来说,他的声音低得令人吃惊。哈利以前几乎没有听他说过话。克拉布像个将要得到一大袋糖果的小孩一样天真地笑着。"我们留下来了,波特。我们决定不走了,决定把你带去见他。"
"Good plan," said Harry in mock admiration. He could not believe that he was this close, and was going to be thwarted by Malfoy, Crabbe, and Goyle. He began edging slowly backward toward the place where the Horcrux sat lopsided upon the bust. If he could just get his hands on it before the fight broke out . . .
"So how did you get in here?" he asked, trying to distract them.
"I virtually lived in the Room of Hidden Things all last year," said Malfoy, his voice brittle. "I know how to get in."
"We was hiding in the corridor outside," grunted Goyle. "We can do Diss-lusion Charms now! And then," his face split into a gormless grin, "you turned up right in front of us and said you was looking for a die-dum! What's a die-dum?"
"Harry?" Ron's voice echoed suddenly from the other side of the wall to Harry's right. "Are you talking to someone?"
With a whiplike movement, Crabbe pointed his wand at the fifty-foot mountain of old furniture, of broken trunks, of old books and robes and unidentifiable junk, and shouted, "Descendo!"
The wall began to totter, then the top third crumbled into the aisle next door where Ron stood.
"Ron!" Harry bellowed, as somewhere out of sight Hermione screamed, and Harry heard innumerable objects crashing to the floor on the other side of the destabilized wall: He pointed his wand at the rampart, cried, "Finite!" and it steadied.
"想得真妙。"哈利假装夸奖他。他简直不敢相信马尔福、克拉布和高尔将要使他功亏一篑。他开始慢慢地、一点一点地向后挪动,魂器就在那里,歪戴在半身像的脑袋上。只要开战前他能用手把它抓住……
"你们是怎么进来的?"他问,想转移他们的注意力。
"去年一年我几乎都住在藏宝屋里,"马尔福用尖利的声音说,"我知道怎么进来。"
"我们刚才就躲在外面的走廊里,"高尔嘟嘟囔囔地说,"我们现在会施幻身咒啦!结果,"他绽开一个傻乎乎的笑容,"你突然在我们面前冒了出来,说要找一个冠帽!什么是冠帽?"
"哈利?"罗恩的声音突然从哈利右侧墙的另一边传了过来,"你在跟人说话吗?"
说时迟那时快,克拉布突然用魔杖一指那堆五十英尺高的垃圾堆——都是破旧的家具、箱子、课本、校袍,以及无法辨认的其他杂物,大喊一声:"应声落地!"
垃圾墙开始摇晃,然后倒塌在罗恩所在的隔壁通道里。
"罗恩!"哈利喊道,赫敏在看不见的地方发出尖叫,摇摆不定的垃圾墙的另一边有数不清的东西稀里哗啦地落到地上。哈利用魔杖指着墙大叫道:"咒立停!"垃圾墙不再摇晃了。
"No!" shouted Malfoy, staying Crabbe's arm as the latter made to repeat his spell. "If you wreck the room you might bury this diadem thing!"
"What's that matter?" said Crabbe, tugging himself free. "It's Potter the Dark Lord wants, who cares about a die-dum?"
"Potter came in here to get it," said Malfoy with ill-disguised impatience at the slow-wittedness of his colleagues, "so that must mean —"
" 'Must mean'?" Crabbe turned on Malfoy with undisguised ferocity. "Who cares what you think? I don't take your orders no more, Draco. You an' your dad are finished."
"Harry?" shouted Ron again, from the other side of the junk wall. "What's going on?"
"Harry?" mimicked Crabbe. "What's going — no, Potter! Crucio!"
Harry had lunged for the tiara; Crabbe's curse missed him but hit the stone bust, which flew into the air; the diadem soared upward and then dropped out of sight in the mass of objects on which the bust had rested.
"STOP!" Malfoy shouted at Crabbe, his voice echoing through the enormous room. "The Dark Lord wants him alive —"
"So? I'm not killing him, am I?" yelled Crabbe, throwing off Malfoy's restraining arm. "But if I can, I will, the Dark Lord wants him dead anyway, what's the diff — ?"
A jet of scarlet light shot past Harry by inches: Hermione had run around the corner behind him and sent a Stunning Spell straight at Crabbe's head. It only missed because Malfoy pulled him out of the way.
"It's that Mudblood! Avada Kedavra!"
"别!"克拉布还想再念一遍那个咒语,马尔福大喊一声拽住了他的胳膊,"如果你把这屋子毁了,那个什么冠冕就会被埋掉!"
"那有什么关系?"克拉布说着,使劲挣脱了马尔福,"黑魔王要的只是波特,谁在乎一个破帽子?"
"波特到这儿来是为了找它,"马尔福勉强掩饰着对头脑迟钝的同伙的不耐烦,说道,"那肯定意味着——"
"'肯定意味着'?"克拉布带着不加掩饰的凶狠转向马尔福,"谁管你是怎么想的,我再也不听你发号施令了,德拉科。你和你爹都完蛋了。"
"哈利?"罗恩又在垃圾墙的另一边喊道,"怎么回事?"
"哈利?"克拉布学着他的腔调说,"怎么回事?不,波特!钻心剜骨!"
哈利已经冲过去拿那头冠,克拉布的咒语没有击中他,却击中了石像。石像立刻飞到空中,冠冕被抛了起来,然后随着石像落在一大堆杂物里,看不见了。
"住手!"马尔福冲克拉布大喊,声音在巨大的房间里回响,"黑魔王想要抓活的——"
"那又怎么样?我又没有要他的命!"克拉布嚷道,使劲挣脱马尔福拉着他的胳膊,"要是能把他干掉也好,反正黑魔王是要他死,有什么两样——?"
一道耀眼的红光从哈利身旁几寸的地方射过——是赫敏在他身后的拐弯处跑来,冲着克拉布的脑袋发了个昏迷咒。马尔福赶紧把克拉布拉到一边,咒语没有击中。
"是那个泥巴种!阿瓦达索命!"
Harry saw Hermione dive aside, and his fury that Crabbe had aimed to kill wiped all else from his mind. He shot a Stunning Spell at Crabbe, who lurched out of the way, knocking Malfoy's wand out of his hand; it rolled out of sight beneath a mountain of broken furniture and boxes.
"Don't kill him! DON'T KILL HIM!" Malfoy yelled at Crabbe and Goyle, who were both aiming at Harry: Their split second's hesitation was all Harry needed.
"Expelliarmus!"
Goyle's wand flew out of his hand and disappeared into the bulwark of objects beside him; Goyle leapt foolishly on the spot, trying to retrieve it; Malfoy jumped out of range of Hermione's second Stunning Spell, and Ron, appearing suddenly at the end of the aisle, shot a full Body-Bind Curse at Crabbe, which narrowly missed.
Crabbe wheeled around and screamed, "Avada Kedavra!" again. Ron leapt out of sight to avoid the jet of green light. The wandless Malfoy cowered behind a three-legged wardrobe as Hermione charged toward them, hitting Goyle with a Stunning Spell as she came.
"It's somewhere here!" Harry yelled at her, pointing at the pile of junk into which the old tiara had fallen. "Look for it while I go and help R —"
"HARRY!" she screamed.
A roaring, billowing noise behind him gave him a moment's warning. He turned and saw both Ron and Crabbe running as hard as they could up the aisle toward them.
"Like it hot, scum?" roared Crabbe as he ran.
But he seemed to have no control over what he had done. Flames of abnormal size were pursuing them, licking up the sides of the junk bulwarks, which were crumbling to soot at their touch.
"Aguamenti !" Harry bawled, but the jet of water that soared from the tip of his wand evaporated in the air.
"RUN!"
哈利看见赫敏倒地躲闪。克拉布竟然起了杀心,哈利的怒火腾地冒起来,脑子里忘记了一切。他朝克拉布发了个昏迷咒,克拉布赶紧闪身躲避,把马尔福手里的魔杖撞掉了。魔杖滚到堆积如山的旧家具和破箱子下面不见了。
"别杀死他!别杀死他!"马尔福朝同时瞄准哈利的克拉布和高尔嚷道,他俩略一迟疑,这对哈利来说已经够了。
"除你武器!"
高尔的魔杖从手里飞了出去,消失在他身旁的杂物堆里,高尔傻乎乎地原地跳了跳,想把魔杖抢回来。马尔福蹿起来躲过赫敏的第二个昏迷咒,罗恩突然出现在通道尽头,对准克拉布发了个全身束缚咒,但偏了一点没有击中。
克拉布迅速转身,又叫了一声:"阿瓦达索命!"罗恩纵身一跳,躲过了那道绿光。赫敏冲上前,边跑边用昏迷咒击中了高尔,没有魔杖的马尔福缩在一个三条腿的大衣柜后面。
"它就在这里!"哈利指着旧头冠落入的那堆垃圾对赫敏喊道,"把它找出来,我去帮罗——"
"哈利!"赫敏大叫一声。
哈利身后突然传来滚动、奔涌的声音,刹那间他有了一种不祥的预感。他转身看见罗恩和克拉布顺着通道没命地奔了过来。
"喜欢烫的吧,废物?"克拉布边跑边吼。
但是克拉布似乎无法控制他所做的事情。熊熊的烈焰追着他们,吞噬着垃圾墙的边缘,火舌所到之处都变成了灰烬。
"清水如泉!"哈利大叫,但是杖尖喷出的水柱立刻在空气中蒸发了。
"快跑!"
Malfoy grabbed the Stunned Goyle and dragged him along; Crabbe outstripped all of them, now looking terrified; Harry, Ron, and Hermione pelted along in his wake, and the fire pursued them. It was not normal fire; Crabbe had used a curse of which Harry had no knowledge: As they turned a corner the flames chased them as though they were alive, sentient, intent upon killing them. Now the fire was mutating, forming a gigantic pack of fiery beasts: Flaming serpents, chimaeras, and dragons rose and fell and rose again, and the detritus of centuries on which they were feeding was thrown up in the air into their fanged mouths, tossed high on clawed feet, before being consumed by the inferno.
Malfoy, Crabbe, and Goyle had vanished from view: Harry, Ron, and Hermione stopped dead; the fiery monsters were circling them, drawing closer and closer, claws and horns and tails lashed, and the heat was solid as a wall around them.
"What can we do?" Hermione screamed over the deafening roars of the fire. "What can we do?"
"Here!"
Harry seized a pair of heavy-looking broomsticks from the nearest pile of junk and threw one to Ron, who pulled Hermione onto it behind him. Harry swung his leg over the second broom and, with hard kicks to the ground, they soared up into the air, missing by feet the horned beak of a flaming raptor that snapped its jaws at them. The smoke and heat were becoming overwhelming: Below them the cursed fire was consuming the contraband of generations of hunted students, the guilty outcomes of a thousand banned experiments, the secrets of the countless souls who had sought refuge in the room. Harry could not see a trace of Malfoy, Crabbe, or Goyle anywhere: He swooped as low as he dared over the marauding monsters of flame to try to find them, but there was nothing but fire: What a terrible way to die. . . . He had never wanted this. . . .
马尔福一把抓住被击昏的高尔,拖着他一起逃去,神色惊慌的克拉布跑在最前面。哈利、罗恩和赫敏跟着他飞奔,大火追在他们身后。这不是一般的火,克拉布施了一个哈利不知道的魔咒。他们拐了个弯,火立刻追了上来,就好像这些火焰是有生命有感觉的,决意要把他们烧死。这时候,火焰开始变形,变成一大群由火组成的野兽:火蛇、客迈拉和火龙,它们腾起来,落下去,又腾起来,多少个世纪积累的破烂垃圾被抛在空中,掉进它们长着獠牙的嘴里,落在它们长着利爪的脚上,最后被地狱般的烈火吞没了。
马尔福、克拉布和高尔不见了,哈利、罗恩和赫敏突然停下脚步。那些火兽所他们围在中间,越逼越近,爪子、触角和尾巴在啪啪甩动,热浪像墙壁一样围住他们。
"怎么办?"赫敏在火焰震耳欲聋的怒吼中尖叫着问,"怎么办哪?"
"给!"
哈利从最近的垃圾堆上抓过两把看着很沉重的扫帚,扔了一把给罗恩。罗恩拉过赫敏坐在他的身后,哈利骑上第二把扫帚,用脚使劲踢了几下地面,飞到空中,离一只张嘴要咬他们的喷火巨鸟的利喙只差几英尺。浓烟和热浪令人窒息,在他们下面,邪恶的大火吞噬着多少代被追查的学生的非法物品,吞噬着千百个违禁试验的罪恶成果,吞噬着数不清的人藏在这个房间里的秘密。哈利四处都看不见马尔福、克拉布和高尔的影子。他在那些贪婪凶恶的火兽的上方尽量飞得很低,寻找他们,但是除了火看不见别的。这样的死法太惨了……他绝不希望……
"Harry, let's get out, let's get out!" bellowed Ron, though it was impossible to see where the door was through the black smoke.
And then Harry heard a thin, piteous human scream from amidst the terrible commotion, the thunder of devouring flame.
"It's — too — dangerous — !" Ron yelled, but Harry wheeled in the air. His glasses giving his eyes some small protection from the smoke, he raked the firestorm below, seeking a sign of life, a limb or a face that was not yet charred like wood. . . .
And he saw them: Malfoy with his arms around the unconscious Goyle, the pair of them perched on a fragile tower of charred desks, and Harry dived. Malfoy saw him coming and raised one arm, but even as Harry grasped it he knew at once that it was no good: Goyle was too heavy and Malfoy's hand, covered in sweat, slid instantly out of Harry's —
"IF WE DIE FOR THEM, I'LL KILL YOU, HARRY!" roared Ron's voice, and, as a great flaming chimaera bore down upon them, he and Hermione dragged Goyle onto their broom and rose, rolling and pitching, into the air once more as Malfoy clambered up behind Harry.
"The door, get to the door, the door!" screamed Malfoy in Harry's ear, and Harry sped up, following Ron, Hermione, and Goyle through the billowing black smoke, hardly able to breathe: and all around them the last few objects unburned by the devouring flames were flung into the air, as the creatures of the cursed fire cast them high in celebration: cups and shields, a sparkling necklace, and an old, discolored tiara —
"What are you doing, what are you doing, the door's that way!" screamed Malfoy, but Harry made a hairpin swerve and dived. The diadem seemed to fall in slow motion, turning and glittering as it dropped toward the maw of a yawning serpent, and then he had it, caught it around his wrist —
Harry swerved again as the serpent lunged at him; he soared upward and straight toward the place where, he prayed, the door stood open: Ron, Hermione, and Goyle had vanished; Malfoy was screaming and holding Harry so tightly it hurt. Then, through the smoke, Harry saw a rectangular patch on the wall and steered the broom at it, and moments later clean air filled his lungs and they collided with the wall in the corridor beyond.
Malfoy fell off the broom and lay facedown, gasping, coughing, and retching. Harry rolled over and sat up: The door to the Room of Requirement had vanished, and Ron and Hermione sat panting on the floor beside Goyle, who was still unconscious.
"C-Crabbe," choked Malfoy as soon as he could speak. "CCrabbe . . ."
"He's dead," said Ron harshly.
"哈利,我们出去吧,我们出去吧!"罗恩吼道,但是在黑黑的浓烟中根本看不见门在哪里。
就在这时,在可怕的混乱中,在吞噬一切的火焰的轰鸣中,哈利听见了一个人微弱的惨叫声。
"太——太——危险了——!"罗恩嚷道,可是哈利还在空中盘旋。浓烟弥漫中,他的眼镜多少对眼睛起了些保护作用。他掠过下面熊熊的火阵,寻找生命的迹象,寻找没被烧成焦炭的一只胳膊、一张脸……
他看见了,马尔福搂着不省人事的高尔,在烧焦的桌子堆成的摇摇欲坠的高塔上。哈利俯冲下去。马尔福看见他过来,赶紧举起一只胳膊,但哈利刚一抓住就知道没有用:高尔太重,马尔福的手上都是汗,立刻就从哈利手中滑脱了——
"如果我们被他们拖死,我就杀了你,哈利!"罗恩的声音吼道。就在一个巨大的喷火客迈拉扑过来时,他和赫敏把高尔拖到了他们的扫帚上,然后打着转儿、起伏不定地再次飞到空中,与此同时,马尔福爬到了哈利身后。
"门,往门那儿飞,门!"马尔福在哈利的耳边叫道。哈利加快速度,跟着罗恩、赫敏和高尔穿过令人窒息的滚滚黑烟。在他们周围,最后几件没被烈焰烧毁的东西,被邪恶的火中怪兽们欢庆地抛向了空中:杯子、盾牌、一串闪亮的项链,还有一个古旧而褪色的王冠——
"你干什么,你干什么?门在那边!"马尔福尖叫。但是哈利突然一个急转弯,俯冲下去。闪闪发光的冠冕似乎在以慢动作降落,翻转着,慢慢地落向一条正张着大口的巨蛇嘴里。在这千钧一发之际,哈利得手了,用手腕套住了它——
巨蛇朝他扑来,哈利又一转身飞向空中,朝着他祈祷有门开着的地方飞去。罗恩、赫敏和高尔不见了,马尔福一边尖叫着,一边紧紧抓住哈利,把哈利抓得生疼。接着,哈利在浓烟中看见墙上有一块长方形的东西,便调整扫帚对准它冲去。片刻之后,新鲜的空气灌进了他的肺里,他们撞在了外面走廊的墙上。
马尔福从扫帚上摔了下去,脸朝下趴在地上,喘气、咳嗽,连连干呕。哈利翻了个身坐起来。有求必应屋的门消失了,罗恩和赫敏坐在地板上高尔的身边喘着粗气,高尔仍然神志不清。
"克——克拉布,"马尔福刚能说话,就哽噎着说,"克——克拉布……"
"他死了。"罗恩毫不客气地说。
There was silence, apart from panting and coughing. Then a number of huge bangs shook the castle, and a great cavalcade of transparent figures galloped past on horses, their heads screaming with bloodlust under their arms. Harry staggered to his feet when the Headless Hunt had passed and looked around: The battle was still going on all around him. He could hear more screams than those of the retreating ghosts. Panic flared within him.
"Where's Ginny?" he said sharply. "She was here. She was supposed to be going back into the Room of Requirement."
"Blimey, d'you reckon it'll still work after that fire?" asked Ron, but he too got to his feet, rubbing his chest and looking left and right. "Shall we split up and look — ?"
"No," said Hermione, getting to her feet too. Malfoy and Goyle remained slumped hopelessly on the corridor floor; neither of them had wands. "Let's stick together. I say we go — Harry, what's that on your arm?"
"What? Oh yeah —"
He pulled the diadem from his wrist and held it up. It was still hot, blackened with soot, but as he looked at it closely he was just able to make out the tiny words etched upon it: Wit beyond measure is man's greatest treasure.
A bloodlike substance, dark and tarry, seemed to be leaking from the diadem. Suddenly Harry felt the thing vibrate violently, then break apart in his hands, and as it did so, he thought he heard the faintest, most distant scream of pain, echoing not from the grounds or the castle, but from the thing that had just fragmented in his fingers.
"It must have been Fiendfyre!" whimpered Hermione, her eyes on the broken pieces.
"Sorry?"
沉默,只听见喘气和咳嗽声。接着一连串砰砰的巨响,震得整个城堡都在颤抖,一支由透明的人影组成的浩浩荡荡的队伍,骑着马飞奔而过,他们的脑袋夹在胳膊底下,还在杀气腾腾地呐喊着。无头猎手队经过后,哈利摇摇晃晃地站起来,打量着四周:战斗还在进行。除了刚才那些撤退的幽灵,他还听到更多的人在喊叫。他的内心恐慌极了。
"金妮在哪儿?"他突然说道,"她刚才还在这儿,她应该回到有求必应屋的。"
"天哪,在那场大火之后,你以为那屋子还管用吗?"罗恩问,但他也站了起来,一边揉着胸口一边左右张望,"我们分头找找——?"
"不,"赫敏说着也站起身。马尔福和高尔还是无力地瘫在走廊的地板上,两人都没了魔杖。"我们不要分开。我们走吧——哈利,你胳膊上是什么?"
"什么?噢,对了——"
他把冠冕从手腕上褪下来举在手里。冠冕还是滚烫的,上面沾满了黑色的烟灰,但他仔细看时,勉强辨认出了上面刻着的细小的文字:过人的聪明才智是人类最大的财宝。
一种血一般的、乌黑黏稠的东西,似乎正从冠冕里渗透出来。突然,哈利感到冠冕在剧烈地振动,然后在他手里裂成了碎片。它裂开时,哈利隐约听见了极其微弱、极其遥远的痛苦的惨叫,不是从城堡或操场传来,而是从他手指间那个刚刚碎裂的东西里发出来的。
"肯定是厉火!"赫敏眼睛盯着那些碎片,带着哭腔说。
"你说什么?"
"Fiendfyre — cursed fire — it's one of the substances that destroy Horcruxes, but I would never, ever have dared use it, it's so dangerous — how did Crabbe know how to — ?"
"Must've learned from the Carrows," said Harry grimly.
"Shame he wasn't concentrating when they mentioned how to stop it, really," said Ron, whose hair, like Hermione's, was singed, and whose face was blackened. "If he hadn't tried to kill us all, I'd be quite sorry he was dead."
"But don't you realize?" whispered Hermione. "This means, if we can just get the snake —"
But she broke off as yells and shouts and the unmistakable noises of dueling filled the corridor. Harry looked around and his heart seemed to fail: Death Eaters had penetrated Hogwarts. Fred and Percy had just backed into view, both of them dueling masked and hooded men.
Harry, Ron, and Hermione ran forward to help: Jets of light flew in every direction and the man dueling Percy backed off, fast: Then his hood slipped and they saw a high forehead and streaked hair —
"Hello, Minister!" bellowed Percy, sending a neat jinx straight at Thicknesse, who dropped his wand and clawed at the front of his robes, apparently in awful discomfort. "Did I mention I'm resigning?"
"You're joking, Perce!" shouted Fred as the Death Eater he was battling collapsed under the weight of three separate Stunning Spells. Thicknesse had fallen to the ground with tiny spikes erupting all over him; he seemed to be turning into some form of sea urchin. Fred looked at Percy with glee.
"You actually are joking, Perce. . . . I don't think I've heard you joke since you were —"
"厉火——邪恶的火——可以毁灭魂器的物质之一,但我一辈子也没胆量使用它,太危险了。克拉布怎么知道——?"
"肯定是从卡罗兄妹那里学来的。"哈利神色严峻地说。
"真可惜,他没有专心听他们讲怎么把火熄灭。"罗恩说,他的头发跟赫敏的一样被烤焦了,脸上黑乎乎的,"要不是他一心想杀死我们,我也会为他的死感到难过呢。"
"可是你有没有想到——"赫敏小声说,"这就是说,如果我们能把那条蛇——"
她的话没说完,因为尖叫声、呐喊声,还有分明的格斗声响彻了整个走廊。哈利环顾四周,心里不禁一沉:食死徒已经攻进了霍格沃茨。弗雷德和珀西后退着出现了,两人都在跟戴兜帽的蒙面大汉决斗。
哈利、罗恩和赫敏跑上前去相助,一道道强光射向四面八方,跟珀西格斗的那个人快速后退,他的兜帽滑落了,他们看见他高高的额头和杂色的头发。
"你好,部长!"珀西大喊一声,冲着辛克尼斯干脆利落地发了个恶咒。辛克尼斯丢掉魔杖,用手抓住长袍的胸口处,显然难受极了。"我说过我要辞职的吧?"珀西补充了一句。
"你在开玩笑,珀西!"弗雷德喊道,跟他搏斗的那个食死徒在三个昏迷咒的重击下瘫倒了。辛克尼斯倒在地上,全身冒出许多小钉子,好像正在变成一种海胆。弗雷德高兴地看着珀西。
"你真是在开玩笑,珀西……我好像很久没听你开玩笑了,自从你——"
The air exploded. They had been grouped together, Harry, Ron, Hermione, Fred, and Percy, the two Death Eaters at their feet, one Stunned, the other Transfigured; and in that fragment of a moment, when danger seemed temporarily at bay, the world was rent apart. Harry felt himself flying through the air, and all he could do was hold as tightly as possible to that thin stick of wood that was his one and only weapon, and shield his head in his arms: He heard the screams and yells of his companions without a hope of knowing what had happened to them —
And then the world resolved itself into pain and semidarkness: He was half buried in the wreckage of a corridor that had been subjected to a terrible attack. Cold air told him that the side of the castle had been blown away, and hot stickiness on his cheek told him that he was bleeding copiously. Then he heard a terrible cry that pulled at his insides, that expressed agony of a kind neither flame nor curse could cause, and he stood up, swaying, more frightened than he had been that day, more frightened, perhaps, than he had been in his life. . . .
And Hermione was struggling to her feet in the wreckage, and three redheaded men were grouped on the ground where the wall had blasted apart. Harry grabbed Hermione's hand as they staggered and stumbled over stone and wood.
"No — no — no!" someone was shouting. "No! Fred! No!"
And Percy was shaking his brother, and Ron was kneeling beside them, and Fred's eyes stared without seeing, the ghost of his last laugh still etched upon his face.
空气突然间爆炸了。他们刚才聚拢在一起,哈利、罗恩、赫敏、弗雷德、珀西,还有他们脚边的两个食死徒,一个中了昏迷咒,一个中了变形咒。在危险似乎暂未来临的一瞬间,世界被撕裂了。哈利觉得自己飞到了空中,他只能死死地抓住那根细细的木棍——他惟一的武器,并用双臂护住脑袋。他听见了同伴们的大喊和惨叫,却无法知道他们到底怎么了——
然后,世界渐渐化为疼痛和一片模糊。他的半个身子都被废墟埋住了,走廊刚才遭到了可怕的袭击。寒冷的空气告诉他,城堡的一侧被炸飞了,面颊上热乎乎的、黏稠的感觉告诉他,他正在大量流血。接着,他听见了一声令他揪心的惨叫,那叫声里所表达的痛苦,绝不是火焰或咒语能够引起的。哈利摇摇晃晃地站起身,心头极度,比他这一天、这一辈子的任何时候都要恐惧……
赫敏从废墟挣扎着站起来,三个红头发的人聚在墙壁被炸飞的地方。哈利抓住赫敏的手,两人跌跌撞撞地走过碎石头和碎木片。
"不——不——不!"有人在大喊,"不!弗雷德!不!"
珀西摇晃着他的弟弟,罗恩跪在他们身边,弗雷德的两只眼睛空洞地瞪着,脸上还留着最后的一丝笑容。

图片来源:高品图像