当前位置:

发现

&nbsp > &nbsp

双语美文

&nbsp >&nbsp

正文
哈利·波特与死亡圣器 第35章(下)
2017-04-02 15:41:00来源:爱词霸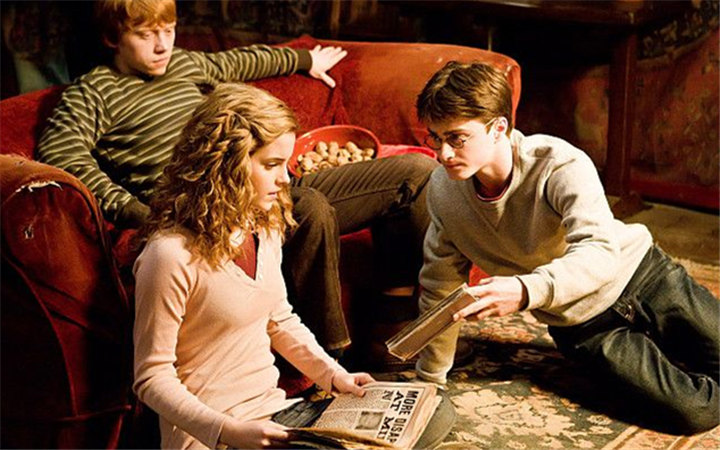 "It was the thing, above all, that drew us together," he said quietly. "Two clever, arrogant boys with a shared obsession. He wanted to come to Godric's Hollow, as I am sure you have guessed, because of the grave of Ignotus Peverell. He wanted to explore the place the third brother had died."
"So it's true?" asked Harry. "All of it? The Peverell brothers —"
"— were the three brothers of the tale," said Dumbledore, nodding. "Oh yes, I think so. Whether they met Death on a lonely road . . . I think it more likely that the Peverell brothers were simply gifted, dangerous wizards who succeeded in creating those powerful objects. The story of them being Death's own Hallows seems to me the sort of legend that might have sprung up around such creations.
"The Cloak, as you know now, traveled down through the ages, father to son, mother to daughter, right down to Ignotus's last living descendant, who was born, as Ignotus was, in the village of Godric's Hollow."
Dumbledore smiled at Harry.
"Me?"
"首先就是这件事使我们走到一起的,"他轻声说,"两个聪明、狂妄的少年,怀着同样的痴迷。我相信你已经猜到了,他是为了伊格诺图斯·佩弗利尔地坟墓才到戈德里克山谷去的。他想调查第三个兄弟死去的地方。"
"那么,这是真的?"哈利问,"所有这些?佩弗利尔兄弟——?"
"——就是故事里的三兄弟,"邓布利多点点头说,"没错,我想是的。至于他们是不是在偏僻的小路上遭遇了死神……我认为更有可能的是佩弗利尔兄弟都是很强大、很危险的巫师、成功地制造了这些威力无比的器物。在我看来,死亡圣器的故事像是围绕这些发明而出现的某种传说。"
"隐形衣,你现在已经知道了,很久以来代代相传,父亲传给儿子,母亲传给女儿,一直传到伊格诺图斯的最后一位活着的后裔,他和伊格诺图斯一样,出生在戈德里克山谷的村庄里。"
邓布利多笑微微地看着哈利。
"我?"
"You. You have guessed, I know, why the Cloak was in my possession on the night your parents died. James had showed it to me just a few days previously. It explained much of his undetected wrongdoing at school! I could hardly believe what I was seeing. I asked to borrow it, to examine it. I had long since given up my dream of uniting the Hallows, but I could not resist, could not help taking a closer look. . . . It was a Cloak the likes of which I had never seen, immensely old, perfect in every respect . . . and then your father died, and I had two Hallows at last, all to myself!"
His tone was unbearably bitter.
"The Cloak wouldn't have helped them survive, though," Harry said quickly. "Voldemort knew where my mum and dad were. The Cloak couldn't have made them curse-proof."
"True," sighed Dumbledore. "True."
Harry waited, but Dumbledore did not speak, so he prompted him.
"So you'd given up looking for the Hallows when you saw the Cloak?"
"你。我知道你已经猜到了你父母死去那天夜里隐形衣为什么在我手里。就在几天前,詹姆把它拿给我看。怪不得他在学校里犯了那些违纪行为而能不被人发现呢!我简直不敢相信自己的眼睛,就提出了借回去研究研究。那时,我早已放弃了同时拥有全部圣器的梦想,但我抵挡不住,忍不住要仔细看看……这件隐形衣跟我以前见过的都不一样,非常古老,每一方面都很完美……后来你父亲死了,我终于拥有了两件圣器,完全属于我自己的!"
他的语气变得极为痛苦。
"不过,隐形衣不会帮助他们幸存下来,"哈利赶紧说道,"伏地魔知道我爸爸妈妈在哪儿,隐形衣不可能使他们抵御魔咒。"
"不错,"邓布利多说,"不错。"
哈利等待着,可是邓布利多没有说话,于是哈利提示他:"就是说,在你看到隐形衣时,你已经放弃了寻找圣器?"
"Oh yes," said Dumbledore faintly. It seemed that he forced himself to meet Harry's eyes. "You know what happened. You know. You cannot despise me more than I despise myself."
"But I don't despise you —"
"Then you should," said Dumbledore. He drew a deep breath. "You know the secret of my sister's ill health, what those Muggles did, what she became. You know how my poor father sought revenge, and paid the price, died in Azkaban. You know how my mother gave up her own life to care for Ariana.
"I resented it, Harry."
Dumbledore stated it baldly, coldly. He was looking now over the top of Harry's head, into the distance.
"I was gifted, I was brilliant. I wanted to escape. I wanted to shine. I wanted glory.
"Do not misunderstand me," he said, and pain crossed the face so that he looked ancient again. "I loved them. I loved my parents, I loved my brother and my sister, but I was selfish, Harry, more selfish than you, who are a remarkably selfless person, could possibly imagine.
"So that, when my mother died, and I was left the responsibility of a damaged sister and a wayward brother, I returned to my village in anger and bitterness. Trapped and wasted, I thought! And then, of course, he came. . . ."
Dumbledore looked directly into Harry's eyes again.
"是啊,"邓布利多无力地说,他似乎在强迫自己面对哈利的目光,"你知道发生了什么事。你知道。你不可能比我更轻视我自己。"
"我没有轻视你——"
"那你应该轻视我。"邓布利多说,他深深吸了口气,"你知道我妹妹身体不好的秘密,知道那些麻瓜做的事情,知道她变成了什么样子。你知道我可怜的父亲为了给她报仇,结果付出了代价,惨死在阿兹卡班。你知道我母亲为了照顾阿利安娜舍弃了自己的生命。"
"当时我怨恨这一切,哈利。"
邓布利多的讲述坦率而冷漠。此刻他的目光掠过哈利的头顶,望向远处。
"我有天分,我很优秀。我想逃走。我想出类拔萃。我想光彩夺目。"
"不要误会,"他说,痛苦浮现在他的脸上,使他又显得苍老了,"我爱他们,我爱我的父母,我爱你的弟弟妹妹,但我是自私的,哈利,比你这个非常无私的人可以想象的还要自私。"
"因此,母亲去世后,我要负责照顾一个残疾的妹妹和一个任性的弟弟,我满怀怨恨和痛苦地返回村庄。我认为自己被困住了,虚度光阴!后来,不用说,他来了……"
邓布利多再次直视着哈利的眼睛。
"Grindelwald. You cannot imagine how his ideas caught me, Harry, inflamed me. Muggles forced into subservience. We wizards triumphant. Grindelwald and I, the glorious young leaders of the revolution.
"Oh, I had a few scruples. I assuaged my conscience with empty words. It would all be for the greater good, and any harm done would be repaid a hundredfold in benefits for wizards. Did I know, in my heart of hearts, what Gellert Grindelwald was? I think I did, but I closed my eyes. If the plans we were making came to fruition, all my dreams would come true.
"And at the heart of our schemes, the Deathly Hallows! How they fascinated him, how they fascinated both of us! The unbeatable wand, the weapon that would lead us to power! The Resurrection Stone — to him, though I pretended not to know it, it meant an army of Inferi! To me, I confess, it meant the return of my parents, and the lifting of all responsibility from my shoulders.
"And the Cloak . . . somehow, we never discussed the Cloak much, Harry. Both of us could conceal ourselves well enough without the Cloak, the true magic of which, of course, is that it can be used to protect and shield others as well as its owner. I thought that, if we ever found it, it might be useful in hiding Ariana, but our interest in the Cloak was mainly that it completed the trio, for the legend said that the man who united all three objects would then be truly master of death, which we took to mean 'invincible.'
"格林德沃。你无法想象他的思想是怎么吸引了我,激励了我。麻瓜被迫臣服,我们巫师扬眉吐气。格林德沃和我就是这场革命的光荣的年轻领袖。"
"哦,我有过一点顾虑,但我用空洞的话语安慰我的良知。一切都是为了更伟大的利益,所造成的任何伤害都能给巫师界带来一百倍的好处。我的内心深处是否知道盖勒特·格林德沃是怎样一个人呢?我想我是知道的,但我睁只眼闭只眼。只要我们的计划能够实现,我所有的梦想都会成真。"
"而我们计划的核心,就是死亡圣器!它们令他多么痴迷,令我们两个人多么痴迷啊!永不会输的魔杖,能使我们获得权力的武器!复活石——对他来说意味着阴尸的大军,但我假装并不知道!对我来说,我承认,它意味着我父母的起死回生,减轻我肩负的所有责任。"
"还有隐形衣……不知怎么,我们始终没怎么谈论隐形衣,哈利。我们俩不用隐形衣就能把自己藏得很好。当然啦,隐形衣的真正魔力在于它不仅可以保护和遮蔽主人,还可以用来保护和遮蔽别人。当时我想,如果我们能找到它,或许可以用它来隐藏阿利安娜,不过我们对隐形衣的兴趣仅仅因为它是三要素之一,根据传说,同时拥有三样东西的人便是死亡的真正征服者,我们理解这意思就是'不可战胜'。"
"Invincible masters of death, Grindelwald and Dumbledore! Two months of insanity, of cruel dreams, and neglect of the only two members of my family left to me.
"And then . . . you know what happened. Reality returned in the form of my rough, unlettered, and infinitely more admirable brother. I did not want to hear the truths he shouted at me. I did not want to hear that I could not set forth to seek Hallows with a fragile and unstable sister in tow.
"The argument became a fight. Grindelwald lost control. That which I had always sensed in him, though I pretended not to, now sprang into terrible being. And Ariana . . . after all my mother's care and caution . . . lay dead upon the floor."
Dumbledore gave a little gasp and began to cry in earnest. Harry reached out and was glad to find that he could touch him: He gripped his arm tightly and Dumbledore gradually regained control.
"Well, Grindelwald fled, as anyone but I could have predicted. He vanished, with his plans for seizing power, and his schemes for Muggle torture, and his dreams of the Deathly Hallows, dreams in which I had encouraged him and helped him. He ran, while I was left to bury my sister, and learn to live with my guilt and my terrible grief, the price of my shame.
"不可战胜的死亡征服者,格林德沃和邓布利多!两个月如痴如醉,满脑子残酷的梦想,忽视了家里仅剩的两个需要我照顾的人。"
"后来……你知道发生了什么事。现实以我那位性格粗暴、没有文化,但却优秀得多的弟弟的面貌出现了。我不愿意听他冲我叫嚷的那些实话。我不想听说我被一个虚弱的、很不稳定的妹妹拖累着,不能前去寻找圣器。"
"争吵上升为决斗。格林德沃失去了控制。他性格里的那种东西——我其实一直有所感觉,却总是假装没发现的那种东西,此刻突然可怕地爆发出来。阿利安娜……在我母亲那么精心呵护和照料之后……倒在地上死了。"
邓布利多轻轻吸了口气,开始动情地哭了起来。哈利伸出手,还好,他发现自己能碰到对方。他紧紧地抓住邓布利多的胳膊,老人慢慢地控制住了自己。
"后来,格林德沃逃跑了,这是除了我谁都能料到的。他消失了,带着他争权夺利的计划,他虐待麻瓜的阴谋,还有他寻找死亡圣器的梦想,而我曾经在这些梦想上鼓励和帮助过他。他逃走了,我留下来埋葬我的妹妹,学着在负罪感和极度悲伤中打发日子,那是我耻辱的代价。"
"Years passed. There were rumors about him. They said he had procured a wand of immense power. I, meanwhile, was offered the post of Minister of Magic, not once, but several times. Naturally, I refused. I had learned that I was not to be trusted with power."
"But you'd have been better, much better, than Fudge or Scrimgeour!" burst out Harry.
"Would I?" asked Dumbledore heavily. "I am not so sure. I had proven, as a very young man, that power was my weakness and my temptation. It is a curious thing, Harry, but perhaps those who are best suited to power are those who have never sought it. Those who, like you, have leadership thrust upon them, and take up the mantle because they must, and find to their own surprise that they wear it well.
"I was safer at Hogwarts. I think I was a good teacher —"
"You were the best —"
"— you are very kind, Harry. But while I busied myself with the training of young wizards, Grindelwald was raising an army. They say he feared me, and perhaps he did, but less, I think, than I feared him.
"许多年过去了。我听到了一些关于他的传言。据说他弄到了一根威力无比的魔杖。那个时候,魔法部部长的职位摆在我的面前,不止一次,而是多次。我当然拒绝了。我已经知道不能把权力交给我。"
"可是你比福吉和斯克林杰要好,好得多!"哈利大声说。
"是吗?"邓布利多语气沉重地说,"我可没有这么肯定。我年轻气盛时候的表现就证明了权力是我的弱点、我的诱惑。说来奇怪,哈利,也许最适合掌握权力的是那些从不钻营权术的人,就像你一样,被迫担任领袖的角色,在情势所逼之下穿上战袍,结果自己很惊讶地发现居然穿得很好。"
"而我待在霍格沃茨更安全些,我认为我是个好教师——"
"你是最好的——"
"——你很善良,哈利。在我忙于培养年轻巫师的时候,格林德沃召集了一支军队。人们说他怕我,也许是吧,但我认为我更怕他。"
"Oh, not death," said Dumbledore, in answer to Harry's questioning look. "Not what he could do to me magically. I knew that we were evenly matched, perhaps that I was a shade more skillful. It was the truth I feared. You see, I never knew which of us, in that last, horrific fight, had actually cast the curse that killed my sister. You may call me cowardly: You would be right. Harry, I dreaded beyond all things the knowledge that it had been I who brought about her death, not merely through my arrogance and stupidity, but that I actually struck the blow that snuffed out her life.
"I think he knew it, I think he knew what frightened me. I delayed meeting him until finally, it would have been too shameful to resist any longer. People were dying and he seemed unstoppable, and I had to do what I could.
"Well, you know what happened next. I won the duel. I won the wand."
Another silence. Harry did not ask whether Dumbledore had ever found out who struck Ariana dead. He did not want to know, and even less did he want Dumbledore to have to tell him. At last he knew what Dumbledore would have seen when he looked in the Mirror of Erised, and why Dumbledore had been so understanding of the fascination it had exercised over Harry.
"哦,我不是怕死,"邓布利多回答哈利询问的目光,"不是怕他用魔法对我的加害。我知道我们势均力敌,或许我还略胜一筹。我害怕的是真相。你明白吗,我一直不知道在那场可怕的混战中,究竟是谁发了那个杀死我妹妹的咒语。你大概会说我是懦夫,你是对的。哈利,我从心底最害怕的是得知是我造成了她的死亡,不仅是由于我的狂傲和愚蠢,而且还是我朝她发出了那致命的一击。"
"我想他是知道的,我想他知道我害怕什么。我拖延着不见他,直到最后,我再不露面就太可耻了。人们在惨死,他似乎不可阻挡,我必须尽我的力量。"
"唉,后来的事情你都知道了。决斗我胜利了。我赢得了那根魔杖。"
又是沉默。哈利没有问邓布利多是否弄清是谁击毙了阿利安娜。他不希望知道,更不希望邓布利多不得不告诉他。他终于知道了邓布利多对面厄里斯魔镜时会看见什么,知道了邓布利多为什么那样理解魔镜对哈利的吸引力。
They sat in silence for a long time, and the whimperings of the creature behind them barely disturbed Harry anymore.
At last he said, "Grindelwald tried to stop Voldemort going after the wand. He lied, you know, pretended he had never had it."
Dumbledore nodded, looking down at his lap, tears still glittering on the crooked nose.
"They say he showed remorse in later years, alone in his cell at Nurmengard. I hope that it is true. I would like to think he did feel the horror and shame of what he had done. Perhaps that lie to Voldemort was his attempt to make amends . . . to prevent Voldemort from taking the Hallow . . ."
". . . or maybe from breaking into your tomb?" suggested Harry, and Dumbledore dabbed his eyes.
After another short pause Harry said, "You tried to use the Resurrection Stone."
Dumbledore nodded.
他们默默地坐了很久,身后那个生命的呜咽声几乎不再使哈利分神了。
最后,哈利说:"格林德沃试图阻止伏地魔追寻那根魔杖。他撒谎了,你知道,谎称他从没得到过它。"
邓布利多点点头,垂眼望着膝头,泪水仍然在他的弯鼻子上闪闪发亮。
"我听说他晚年独自被关在纽蒙迦德牢房里时流露出了悔恨。我希望这是真的。我希望他能感受到他的所作所为是多么恐怖和可耻。也许,他对伏地魔撒谎就是想弥补……想阻止伏地魔拿到圣器……"
"……或者不让他闯进你的坟墓?"哈利插言道,邓布利多擦了擦眼睛。
又是短暂的沉默,然后哈利说:"你试着用过复活石?"
邓布利多点了点头。
"When I discovered it, after all those years, buried in the abandoned home of the Gaunts — the Hallow I had craved most of all, though in my youth I had wanted it for very different reasons — I lost my head, Harry. I quite forgot that it was now a Horcrux, that the ring was sure to carry a curse. I picked it up, and I put it on, and for a second I imagined that I was about to see Ariana, and my mother, and my father, and to tell them how very, very sorry I was. . . .
"I was such a fool, Harry. After all those years I had learned nothing. I was unworthy to unite the Deathly Hallows, I had proved it time and again, and here was final proof."
"Why?" said Harry. "It was natural! You wanted to see them again. What's wrong with that?"
"Maybe a man in a million could unite the Hallows, Harry. I was fit only to possess the meanest of them, the least extraordinary. I was fit to own the Elder Wand, and not to boast of it, and not to kill with it. I was permitted to tame and to use it, because I took it, not for gain, but to save others from it.
"那么多年之后,我终于发现它埋在冈特家的荒宅里——这是我最渴望得到的圣器,不过年轻时我要它是因为别的原因——我昏了头,哈利。我忘记了它已经是一个魂器,忘记了那戒指上肯定带有魔咒。我把它拿了起来,把它戴在了手上,那一瞬间,我以为自己就要见到阿利安娜、我的母亲、我的父亲,告诉他们我心里有多么多么悔恨……"
"我真是个傻瓜,哈利。那么多年之后,我竟然毫无长进。我根本不配同时拥有全部的死亡圣器,这已多次得到证实,而这是最后一次证明。"
"为什么?"哈利说,"那是很自然的呀!你想再次见到他们,那有什么不对呢?"
"也许一百万人中间有一个人可以同时拥有全部圣器,哈利。我只适合拥有其中最微不足道、最没有特色的。我适合拥有老魔杖,而且不能夸耀它,也不能用它杀人。我可以驯服它,使用它,因为我拿它不是为了索取,而是为了拯救别人。"
"But the Cloak, I took out of vain curiosity, and so it could never have worked for me as it works for you, its true owner. The stone I would have used in an attempt to drag back those who are at peace, rather than to enable my self-sacrifice, as you did. You are the worthy possessor of the Hallows."
Dumbledore patted Harry's hand, and Harry looked up at the old man and smiled; he could not help himself. How could he remain angry with Dumbledore now?
"Why did you have to make it so difficult?"
Dumbledore's smile was tremulous.
"而隐形衣,我拿它完全出于无谓的好奇心,所以它对我不可能像对你那样管用,你是它真正的主人。对那块石头,我是想把那些长眠者硬拽回来,而不是像你那样,帮助自己实现自我牺牲。你才真正有资格拥有圣器。"
邓布利多拍拍哈利的手,哈利抬头看着老人,脸上露出了笑容。他忍不祝现在他还怎么能生邓布利多的气呢?
"你为什么要把事情搞得这么复杂?"
邓布利多的笑容在颤抖。
"I am afraid I counted on Miss Granger to slow you up, Harry. I was afraid that your hot head might dominate your good heart. I was scared that, if presented outright with the facts about those tempting objects, you might seize the Hallows as I did, at the wrong time, for the wrong reasons. If you laid hands on them, I wanted you to possess them safely. You are the true master of death, because the true master does not seek to run away from Death. He accepts that he must die, and understands that there are far, far worse things in the living world than dying."
"And Voldemort never knew about the Hallows?"
"I do not think so, because he did not recognize the Resurrection Stone he turned into a Horcrux. But even if he had known about them, Harry, I doubt that he would have been interested in any except the first. He would not think that he needed the Cloak, and as for the stone, whom would he want to bring back from the dead? He fears the dead. He does not love."
"But you expected him to go after the wand?"
"I have been sure that he would try, ever since your wand beat Voldemort's in the graveyard of Little Hangleton. At first, he was afraid that you had conquered him by superior skill. Once he had kidnapped Ollivander, however, he discovered the existence of the twin cores. He thought that explained everything. Yet the borrowed wand did no better against yours! So Voldemort, instead of asking himself what quality it was in you that had made your wand so strong, what gift you possessed that he did not, naturally set out to find the one wand that, they said, would beat any other. For him, the Elder Wand has become an obsession to rival his obsession with you. He believes that the Elder Wand removes his last weakness and makes him truly invincible. Poor Severus . . ."
"我恐怕是想用格兰杰小姐来牵制你,哈利。我担心你发热的头脑会支配你善良的心。你很像我一样在错误的时候、为了错误的理由攫取圣器。在你拿到它们时,我希望你能安全地拥有它们。你才是死亡的真正征服者,因为真正的征服者绝不会试图逃离死神。他会欣然接受必死的命运,并知道活人的世界里有着比死亡更加糟糕得多的事情。"
"伏地魔始终不知道圣器吗?"
"我认为是的,因为他没有认出复活石,而是把它变成一个魂器。不过,即使他知道它们,哈利,除了第一件,他恐怕对别的都不感兴趣。他会认为自己不需要隐形衣,至于复活石,他想唤回哪位死者呢?他惧怕死者。他不懂得爱。"
"那你料到他会寻找那根魔杖?"
"自从你的魔杖在小汉格顿的墓地里击败了伏地魔之后,我就相信他会这么做。起初,他担心你是凭着出色的技艺征服了他。后来他绑架了奥利凡德,发现了孪生杖芯的存在。他以为这就说明了一切。可是,借来的魔杖依然不是你的对手!伏地魔没有问问自己,你身上有什么素质使你的魔杖变得这么强大,你具备什么他所没有的天赋,而是想当然地去找那根魔杖,那根传说中打败天下无敌手的魔杖。他被老魔杖所困扰,如同他被你所困扰一样。他相信老魔杖会消除他最后的弱点,使他变得真正不可战胜。可怜的西弗勒斯……"
"If you planned your death with Snape, you meant him to end up with the Elder Wand, didn't you?"
"I admit that was my intention," said Dumbledore, "but it did not work as I intended, did it?"
"No," said Harry. "That bit didn't work out."
The creature behind them jerked and moaned, and Harry and Dumbledore sat without talking for the longest time yet. The realization of what would happen next settled gradually over Harry in the long minutes, like softly falling snow.
"I've got to go back, haven't I?"
"That is up to you."
"I've got a choice?"
"Oh yes." Dumbledore smiled at him. "We are in King's Cross, you say? I think that if you decided not to go back, you would be able to . . . let's say . . . board a train."
"既然你安排让斯内普把你杀死,你是打算让他得到老魔杖的,是吗?"
"我承认我有这样的意图,"邓布利多说,"然而事与愿违啊,是不是?"
"是啊,"哈利说,"在这一点上没有实现。"
他们身后的生命在抽动、呻吟,哈利和邓布利多一言不发地坐了很长时间,比前几次的沉默还要长。最后,就像雪花轻轻飘荡一样,哈利慢慢意识到接下来会发生什么了。
"我必须回去,是吗?"
"这由你决定。"
"我可以选择?"
"是的,"邓布利多微笑地看着他,"你说我们在国王十字车站,不是吗?我想,如果你决定不再回去,你可以……比如说……登上一列火车。"
"And where would it take me?"
"On," said Dumbledore simply.
Silence again.
"Voldemort's got the Elder Wand."
"True. Voldemort has the Elder Wand."
"But you want me to go back?"
"I think," said Dumbledore, "that if you choose to return, there is a chance that he may be finished for good. I cannot promise it. But I know this, Harry, that you have less to fear from returning here than he does."
Harry glanced again at the raw-looking thing that trembled and choked in the shadow beneath the distant chair.
"它会把我带到哪儿呢?"
"往前。"邓布利多简单地说。
又是沉默。
"伏地魔拿到了老魔杖。"
"不错。伏地魔拿着老魔杖。"
"但你希望我回去?"
"我想,"邓布利多说,"如果你选择回去,有可能他就永远完蛋了。我不能保证。但我知道,哈利,你没有他那么害怕回到这里。"
哈利又看了一眼远处椅子底下阴影里那个颤抖、抽泣的红兮兮的东西。
"Do not pity the dead, Harry. Pity the living, and, above all, those who live without love. By returning, you may ensure that fewer souls are maimed, fewer families are torn apart. If that seems to you a worthy goal, then we say good-bye for the present."
Harry nodded and sighed. Leaving this place would not be nearly as hard as walking into the forest had been, but it was warm and light and peaceful here, and he knew that he was heading back to pain and the fear of more loss. He stood up, and Dumbledore did the same, and they looked for a long moment into each other's faces.
"Tell me one last thing," said Harry. "Is this real? Or has this been happening inside my head?"
Dumbledore beamed at him, and his voice sounded loud and strong in Harry's ears even though the bright mist was descending again, obscuring his figure.
"Of course it is happening inside your head, Harry, but why on earth should that mean that it is not real?"
"不要怜悯死者,哈利。怜悯活人,最重要的是,怜悯那些生活中没有爱的人。你回去可以保证少一些灵魂遭到残害,少一些家庭妻离子散。如果你觉得这是个很有价值的目标,那我们就暂时告别吧。"
哈利点点头,叹了口气。离开这个地方不会像步入禁林那样艰难,但这里温暖、宁静、明亮,而他知道他要回去面对痛苦,面对丧失更多亲人的恐惧。他站起身,邓布利多也站了起来,他们久久地凝视着对方。
"告诉我最后一点,"哈利说,"这是真事?还是发生在我脑子里的事?"
邓布利多笑微微地看着他,虽然明亮的雾气再次降落,使他的身影变得模糊了,但他的声音却那样响亮有力地传到了哈利耳朵里。
"当然是发生在你脑子里的事,哈利,但为什么那就意味着不是真的呢?"

图片来源:高品图像