当前位置:

发现

&nbsp > &nbsp

旅游

&nbsp >&nbsp

正文
去香港不可不尝的14道美食(上)
2017-06-30 17:22:35来源:chinadaily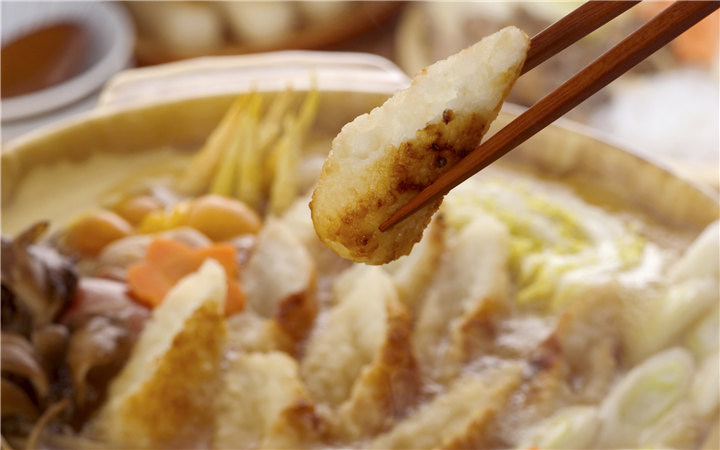 香港有"世界美食博览会"的美称,去香港旅游的游客最爱做的事情之一就是在外就餐。从路边摊小吃到世界顶级餐厅,香港可选择的餐厅多种多样。下面,让我们一起走近香港的美食世界。
1. Sweet and Sour Pork
咕噜肉(又称甜酸肉或咕咾肉)
Sweet and sour pork is probably the most famous Hong Kong food, which has made its way into Chinese take away menus around the world. The well-known pork ribs or tenderloin are eaten with delicious orange sauce.
咕噜肉可能是最著名的香港美食,在世界各地的中餐菜单上都可以看到这道菜的名字。这道名菜要蘸着美味的橘子酱吃。
2. Wontons
云吞
Wontons are known as chāo shǒu (literally means "crossed hands"), added to a clear soup along with other ingredients, sometimes deep-fried. Several shapes are common, depending on the region and cooking methods.
云吞又名"抄手",在清汤里加入其它佐料一起煮,有时是油炸。云吞有各种包法,依地区和烹饪方法而不同。
The most famous are called Sichuan-style wontons, a celebrated snack in Chengdu. They are famous for their thin skin and rich meat filling as well as their soup, made of chicken, duck, and pork simmered for a long time.
最著名的云吞是四川云吞,是成都当地的一种名小吃。四川云吞以皮薄馅大闻名,云吞汤用鸡肉、鸭肉、猪肉长时间炖煮而成。
The taste texture is very smooth and quite oily. A more Hong Kong style version would be cooked without peppers, and instead pieces of salted fish. It's extremely popular and much ordered in restaurants or dai pai dong (traditional licensed food stalls) together with rice.
云吞的口感爽滑多油。香港云吞不加辣椒,而是加咸鱼片。云吞在香港很受欢迎,人们在饭店和大排档经常点云吞来配米饭吃。
3. Roast Goose
烧鹅
Roast Goose is a traditional specialty of Cantonese cuisine: It is a whole goose roasted with secret ingredients, cut into small pieces, each piece with skin, meat and soft bone, and eaten with plum sauce.
烧鹅是传统的广东菜:整鹅用秘制配料烤成,切成小块,每块都包含皮、肉和软骨,蘸苏梅酱吃。
4. Wind Sand Chicken
风沙鸡
This famous dish originated from Guangdong, and become well-loved by Hong Kong people. A whole chicken is flavored and put into the oven for about 20 minutes until the chicken's skin turns brown.
这道名菜源于广东,深受香港人喜爱。整鸡加上调料后放入炉内烤20分钟左右,直到外皮呈褐色。
What makes it so unique is that garlic pieces are added and it looks like wind-blown sand. The chicken is roasted and crispy on the outside and very smooth and tender inside. The smell of the garlic pieces is exactly to the right degree.
这道菜的独特之处就在于加入蒜末,让烤鸡呈风沙色。鸡肉外脆里嫩,蒜末味道恰到好处。
5. Shrimp and Chicken Balls
龙凤球
Its Chinese name is 'dragon and phoenix balls'. Dragon refers to the shrimps, and phoenix refers to the chicken. The name is related to Chinese royalty: the emperor (dragon) and the queen (phoenix), and is usually served in Chinese wedding ceremonies.
这道菜的中文名是"龙凤球"。"龙"指的是虾,"凤"指的是鸡。这道菜的名字与中国古代宫廷有关,"龙"和"凤"分别指皇帝和皇后,这道菜是喜宴上的常客。
Firstly, shrimp and chicken meat are chopped finely and kneaded into balls, then they are deep fried with bread crumbs. The balls are crispy and tender. Salad sauce is often used to provide a sweet and sour taste.
虾肉和鸡肉被剁碎揉成球,然后裹着面包屑油炸。龙凤球又脆又嫩,经常配着酸酸甜甜的沙拉酱一起吃。
6. Phoenix Talons (Chickens' Feet)
凤爪(鸡爪)
In Guangdong culture, people like using the word "phoenix" to represent chicken. The other reason probably is in Chinese pronunciation, phoenix (feng) sounds more beautiful to Chinese than chicken (ji).
在广东文化里,人们喜欢用"凤"来指代鸡肉。另一个原因很可能是"凤"的中文发音比"鸡"好听。
The fried chicken feet are placed on a small plate, and placed into a bamboo steamer. After frying and steaming, chicken feet become very soft and you can easily chew the bones.
炸鸡爪被放在碟子上,然后放入竹蒸笼里蒸。经过炸和蒸,鸡爪变得很软,骨头很容易就能嚼碎。
Consuming phoenix talons is good for skin and bone, because they contain much collagen and calcium. Women who are looking for better skin should eat more.
吃凤爪对皮肤和骨头都有好处,因为凤爪含有大量的胶原蛋白和钙。想要皮肤好的女人应该多吃点。
7. Steamed Shrimp Dumplings (Har Gow)
蒸虾饺
Har Gow is one of the most representative dim sum dishes in Hong Kong restaurants. It remains a top priority of order, though expensive. Usually there are three to four shrimp dumplings in one bamboo steamer. Each shrimp dumpling has one to two small shrimps and a little pork wrapped in a thin translucent wrapper.
虾饺是香港餐厅里最具代表性的点心之一。虾饺虽然价格昂贵,但一直是人们点得最多的菜。每个蒸笼里通常有三到四个蒸饺。每个虾饺半透明的薄皮里包着一两只虾和一点猪肉。
When it is served, the wrapper is crystal-like and shining, attracting people to put it into their mouths. One bite is enough to swallow one dumpling. The shrimp is refreshing and best if it has a little juice inside so that it is not too dry.
虾饺上桌时,饺子皮晶莹剔透,让人一看就想吃。虾饺很小,一口就能吞下。虾肉很新鲜,如果有点汁水就更棒了。
8. Fish Balls
鱼丸(鱼蛋)
Fish balls are a typical Hong Kong snack, made of fish meat and can be divided into two varieties.
鱼丸是经典的香港小吃,用鱼肉制成,可以被分为两种。
One is the well-known cooked food sold by street venders. Its history can be tracked back to the 1950s. This type of fish balls are made of fried fish meat. Food stalls often sell them with spicy or sweet sauces.
一种是街边小贩卖的著名熟食。这种鱼丸的历史可以被追溯到20世纪50年代。这种鱼丸由炸鱼肉制成。路边摊通常将鱼丸配着辣酱或甜酱出售。
The other kind is sold uncooked and usually served as an important ingredient of hot pot, or cooked with noodles in hot soup. The price is higher and taste different from the first type. These are available in traditional markets and super markets.
另外一种是生鱼丸,通常作为火锅的重要配料,或者放入热汤和面条一起煮。这种鱼丸的价格更高,口味和第一种鱼丸也不同。这种鱼丸在传统的菜市场和超市里能买到。
文章来源:中国日报英语点津
图片来源:高品图像